WEST MIDLANDS MAGICIAN IN SUTTON COLDFIELD


Professional West Midlands magician available for weddings, parties and events in Sutton Coldfield


SUTTON COLDFIELD MAGICIAN
FORMER S.A.M.S. TABLE TOP MAGIC TITLE HOLDER
5,485,145 CHANNEL VIEWS ON YOUTUBE
As a magician in Sutton Coldfield Andy creates and performs original card tricks!
MAGICIAN IN SUTTON COLDFIELD WEDDING MAGICIAN

Andy's close up magic is full of heart and very funny
Sutton Coldfield Wedding Magician Andy can host and entertain at your wedding or birthday party with the goal of making it significant. Plus unforgettable. In short beautiful close up magic with impact. At all times!
Overall conjurer Andy will combine his tantalising magic and charismatic personality. In short he will create fascinating magic moments. As a result this will have a powerful and impressive impact upon your guests!
Basically he achieves this sleight of hand with combining a variety of techniques. Overall skills that he has learned and developed over hundreds of wedding and birthday party performances.
MAGICIAN IN SUTTON COLDFIELD WEDDING MAGIC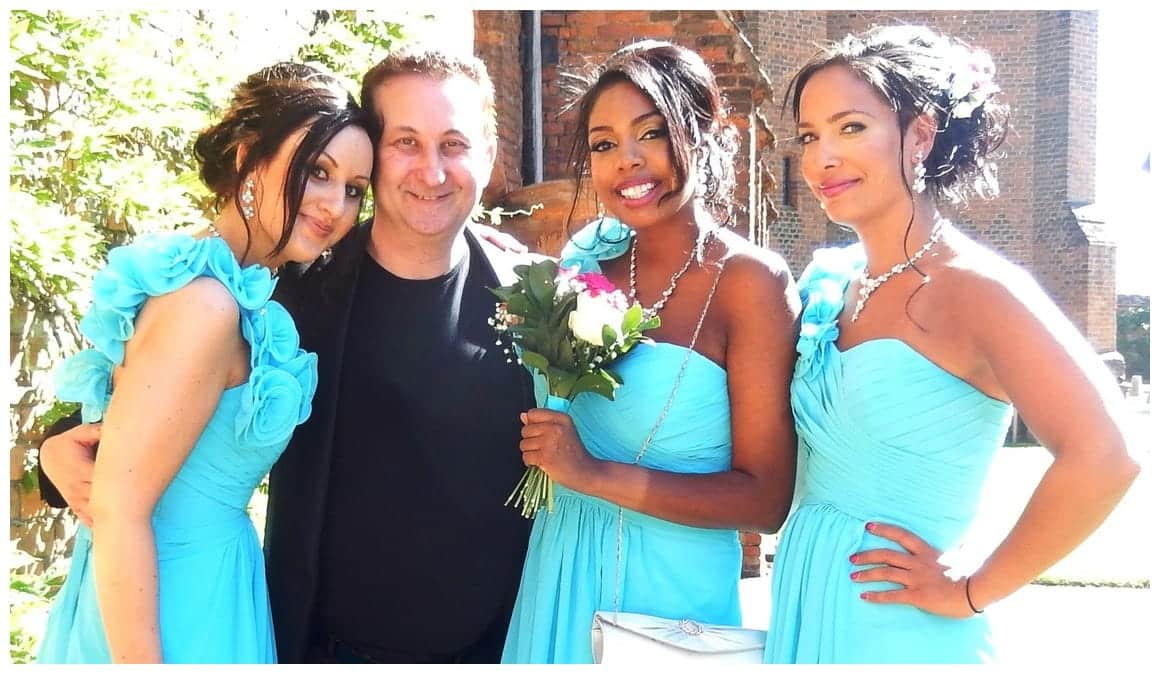 Andy's magic reflects life. Joyful and unexpected!
When it comes to providing successful wedding magic it is all about being an excellent performer. Plus presenting close up magic skilfully.
To begin with this is not easy to do. In fact this kind of experience comes from thousands of hours of solo practice. Plus lots of studying! As well as performing in the real world.
In short magician Andy's sleight of hand looks very slick and natural. It looks like he has not practiced at all. However be assured! Overall he routinely practices between one to two hours daily. This is to ensure his skills are kept fresh. Plus very sharp!
Ready to perform his close up magic to wow your guests at your wedding or birthday party. All at the drop of a hat! In short a professional wedding entertainer. One who is amiable and flexible.
MAGICIAN IN SUTTON COLDFIELD BIRTHDAY PARTIES

Sutton Coldfield walk about magic which is interactively beautiful!
So if you are looking for a charismatic birthday party entertainer your search is over! In short Andy is the Sutton Coldfield party magician you are hoping for.
In one magical stroke illusionist Andy can welcome. Plus befriend and entertain your guests with compelling close up magic.
To begin with in the blink of an eye he can walk about your event. In general meeting and greeting your friends.
First hand magic. To create bundle of energy and atmosphere. In detail wonderfully addictive walk about entertainment. Plus a barrage of surprises in store.
MAGICIAN IN SUTTON COLDFIELD REVIEWS

Andy is down to earth and very popular!
Sutton Coldfield wedding magician Andy Field is renowned for supplying extremely entertaining sleight of hand magic. Plus creating sublime memories for your birthday party or wedding day.
In detail past clients have recommended and rated Andy. They have given him an abundance of online reviews. Many describing his magical performances as unreal, mind-blowing and fantastic! In short obtain more testimonials here.
MAGICIAN IN SUTTON COLDFIELD BIRTHDAY PARTY HIRE & FEES

The most oddly amazing magic you will ever see!
Overall fees for Andy's close up magic services are not the same as other suppliers. For example his rate is governed by a "session of magic" and not by an hourly rate.
Most weddings and birthday parties require entertainment of around ninety to one hundred minutes. In general just shy of two hours.
Each event is different and unique. It is to your advantage to contact Andy and tell him of your requirements.
As a result he will then put a competitively priced package together. It will be perfect for your event. Free and swift quotes can be obtained right here.
MAGICIAN IN SUTTON COLDFIELD CLOSE UP MAGIC

Andy close up magic is a tonic for the mind and body!
Magician Andy has presented his close up magic in Sutton Coldfield at many weddings and birthday parties over the years. By and large as stated by his online reviews his style is playful. Plus infectious and relaxing.
His magic is very popular. To date his online YouTube performances have nearly six million views. In fact these rise daily. Magician Andy's performances can be view here.
MAGICIAN IN SUTTON COLDFIELD TABLE TOP MAGIC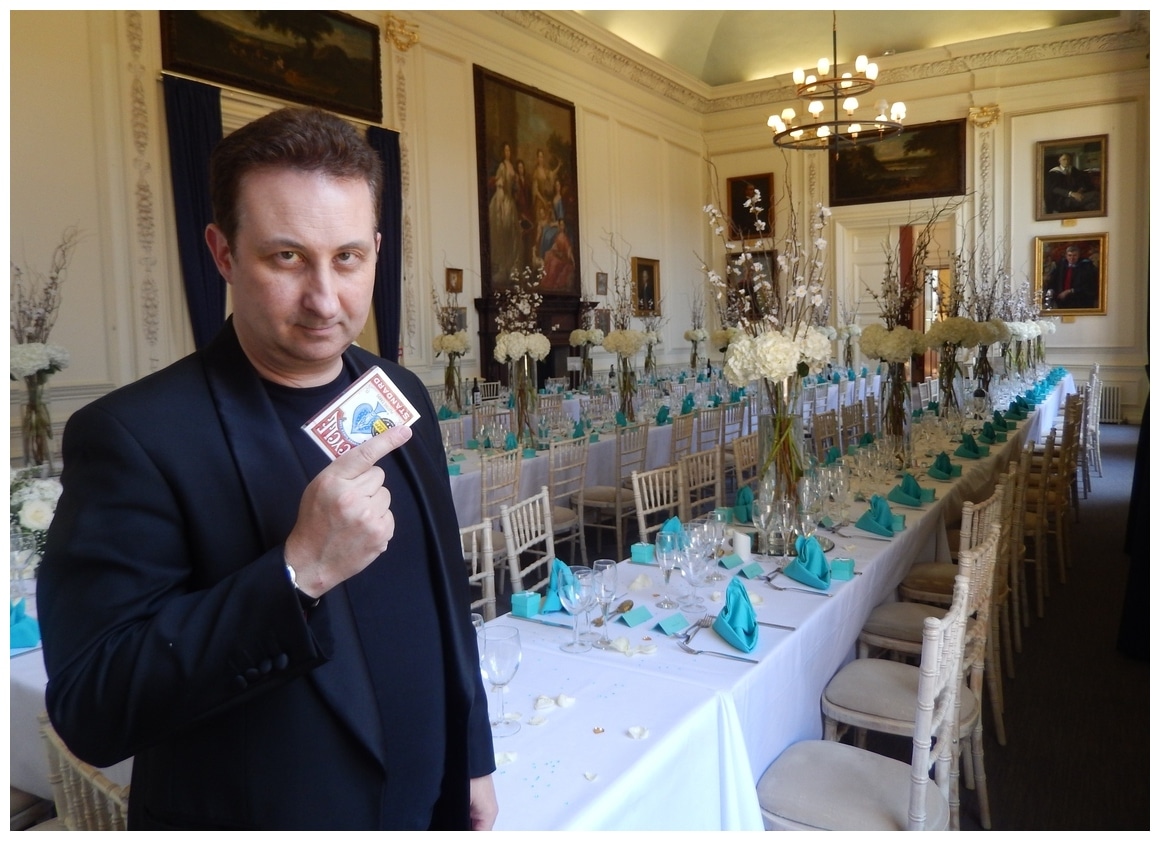 An eloquent and beautiful display of magic at your table top!
Overall take a step back. Watch Andy work his captivating magic at your event. In short you will see excited people reacting. Plus asking questions they had not even thought of! To begin with how can he do that? Where did that go? How did that get there? How could he possibly know this?
Overall the ladies will want to hug him. Plus the men will give him a hearty handshake!
It is all about bringing joy and wonder into people's lives. Plus creating beautiful atmospheres for weddings, parties and corporate events!
MAGICIAN IN SUTTON COLDFIELD CHARITY EVENTS

Time to fundraise and collect money to help people
Will Andy supply his magic for my Sutton Coldfield charity event? Yes, he will. By and large a charity event can benefit greatly by having Andy entertain with his close up magic.
Please note he does not work for free. However by all means please get in touch to talk about your Sutton Coldfield event. Plus any discounts he can pass over to you.
MAGICIANS IN SUTTON COLDFIELD WEDDING MAGIC

Do you need magician Andy to help you with any special requests for your Sutton Coldfield event? Such as arranging surprises and magically producing presents? Or to perform a specific trick? if so please do get in touch to discuss. 
With this in mind Andy would be delighted to help make your Sutton Coldfield wedding or birthday party even more bespoke.
MAGICIAN IN SUTTON COLDFIELD CORPORATE MAGICIAN

Need powerful magic for your event? No problem!
On occasions magician Andy is asked to create something original for a corporate event. For example a Surrey client may ask him to magically produce a product. Or incorporate similar ideas.
Andy also has an excellent reputation of providing very clean and entertaining magic. Overall this will create a positive impact at your VIP event.
SUTTON COLDFIELD MAGIC TUITION / TEACHER / PRIVATE LESSONS

Overall magic tuition on a one to one basis is the fast track to learning magic quickly and cost effectively.
As an experienced magic teacher Andy can guide you quickly and successfully to any goal post targets you wish to reach in close up magic. In addition to this Andy can teach sleight of hand with playing cards, coins, money and other small objects. Learn more.
MAGICIAN IN SUTTON COLDFIELD CHRISTMAS PARTY'S

Andy's close up magic for Sutton Coldfield Christmas parties!
Overall from one person to large groups Andy's magic will be a grand hit. In short his Christmas party magic is rich and rewarding.
So let him impress your guests during the arrival drinks. Or at any other time you feel would suit your plans.  Your Sutton Coldfield Christmas party may never recover from Andy's sleight of hand magic!
Let him be your magical host. Have Andy amaze your guests and make them laugh at the same time! In fact two for the price of one!
SUTTON COLDFIELD MAGICIAN QUESTIONS

HOW MUCH IS A SUTTON COLDFIELD MAGIC TO HIRE?
The bottom line is that magicians can charge what they wish. Andy loves his work. He likes to offer a great product at a down to earth rate. Hiring Andy will make your life easier. Most of all he will make your event stand out. Get in touch for a fast quotation today.
WHAT IS YOUR PERFORMING STYLE?
Andy blends humour, showmanship and experience together. His style is relaxed and playful. He performs in a suit and tie. Above all he is instantly likeable. He can connect with people and make them feel good about themselves.
WHY ARE FIVE STAR REVIEWS IMPORTANT?
It is the customer or client who has the final say! Andy is very lucky. He has nearly three hundred Facebook recommendations. Nearly one hundred Google reviews. Nearly six million YouTube views.
DO YOU PERFORM FOR CHILDREN?
If there are any children present at your wedding then yes. Andy always keeps a few tricks up his sleeve for them. If you mean an actual sit down show then no he does not. Young children need a children's entertainer. Andy can very easily recommend several professional magicians who perform specifically for children.