CLACTON-ON-SEA WEDDING MAGICIAN


Professional magician Andy Field can supply outstanding and entertaining magic for your Clacton-on-Sea wedding, party or corporate event.His marvellous magic skills have been used for the BBC drama "Hustle" and he has been S.A.M.S. Close up Magic Champion twice.

Magician Andy will perform strong and entertaining close up magic.
Gripping illusions which will compliment your Clacton-on-Sea wedding or birthday party event beautifully. 
FIVE MILLION YOUTUBE CHANNEL VIEWS
Andy pushing a signed playing card into a bottle which is both sealed and solid. Incredible magical illusions to super charge any wedding or party!
To begin with he has a playful and amiable personality. This is interwoven into his performance complete with his superb sleight of hand skills.
His presence is strong and engaging. Andy's magic will stir your curiosity and satisfy your heart.
MAGICIAN CLACTON-ON-SEA FOR WEDDINGS OR PARTIES

Andy is experienced at interacting with people from all walks of life.  As he entertains his goal is to make your guests feel welcome, relaxed and happy.  A jubilant atmosphere is very important for a successful event.
With over twenty years of experience his magic is original and powerful.  As he mixes and mingles with your guests he will perform sleight of hand magic with cards and coins.
However, to add variety and intrigue he also uses paper money, borrowed personal effects and even supplied mind reading.  Perhaps you would like him to reveal a four digit number you are thinking of or even the name of the first person you kissed!
Andy's table top magic skills have amassed millions of on line views through social media such as Facebook and You Tube. You can see a selection of his close up magic performances here…
MAGICIAN CLACTON-ON-SEA MAGIC VIDEO

Atmospheric and entertaining close up magic performed with passion and energy! Just as it should be!
USING ANDY'S MAGIC AT YOUR CLACTON-ON-SEA WEDDING OR PARTY.

Overall there is no doubt that Andy's outstanding interlude of magical entertainment will amaze your guests.  The only decision now is when to have him perform.
MAGICIAN CLACTON-ON-SEA DRINKS RECEPTION

DURING EVENING RECEPTIONS

Andy has performed throughout Essex during evening receptions or room changes.  This is a wonderful idea to keep your guests entertained while the wedding crew prepare the next part of your wedding.
A pleasure to experience and recall years later.
DURING THE WEDDING BREAKFAST

Andy can also perform table top magic for tables during the wedding breakfast.  Overall each group of wedding guests will receive a bespoke performance.
Please note that Andy will only perform during off beat moments when people are not actually trying to eat.  This is better for your wedding guests, the waiting staff and Andy's magic!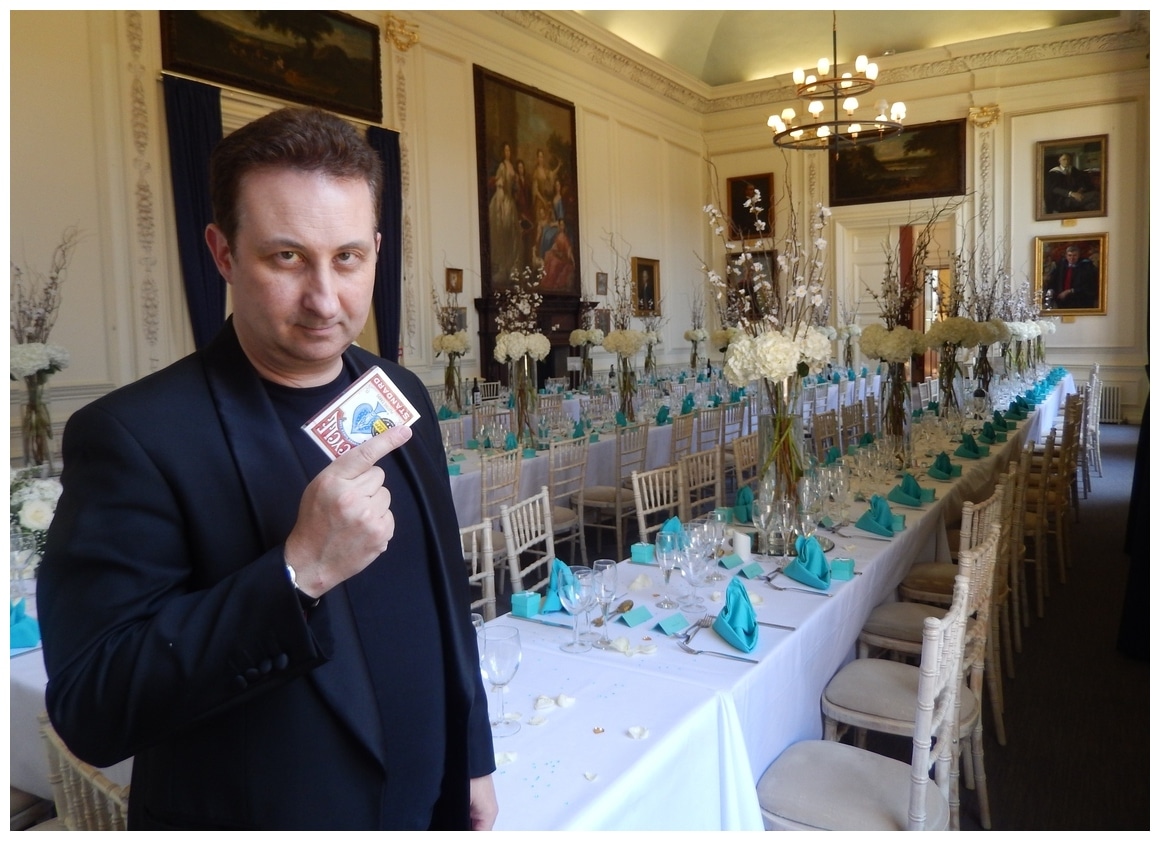 Andy would jump at the chance to entertain your family and friends at any special event or occasion. He covers corporate events all well as birthday parties and weddings.
"A great magician is not cheap.  But a cheap magician is not great".
Magician Clacton-on-Sea Testimonials

Hi Andy, Karen and I wanted to thank you so much for all your hard work entertaining our family and friends during our evening reception.  Everyone agreed you were amazing.  How on earth did you make a card appear inside our champagne bottle! Well done to you!
Best wishes, Geoff & Karen Tonks – Esplanade Hotel, Clacton-On-Sea
Magician Clacton-on-Sea Questions and Answers

What is close up magic?
This is where Andy performs right next to his audience. He uses very familiar items. Such as money, playing cards and finger rings. Overall Andy's close up magic is very addictive!
When do magicians perform at weddings and birthday parties?
The is a personal choice. There are no right or wrong times! The best approach is to get in touch with Andy. Tell him your requirements. He will be delighted to hear from you!
How much is a Clacton on Sea magician?
Andy price structure like all magicians is determined by several main factors. Such as times and dates. Peak times of the year. How long a performance is required and so forth.