MAGICIAN ABERYSTWYTH, LAMPETER & CEREDIGION FOR WEDDINGS, PARTIES & OTHER EVENTS


Professional magician in Aberystwyth, Lampeter & Ceredigion, Andy Field is available for weddings, parties and other events in the region

Aberystwyth, Lampeter & Ceredigion Magician
Lampeter, Abweystwyth and Ceredigion magician Andy Field wants to work with you and make you wedding or birthday party a huge success!
Magic entertainment for any event which is exceptionally clever and energetic!
Take a step back and watch proudly as Andy has all your family and friends laughing and interacting with his close up magic.
MAGICIAN ABERYSTWYTH WEDDING HIRE

Highly spirited wedding magician Andy Field
Former S.A.M.S. Champion of Close up Magic will perform outstanding close up magic illusions for your Aberystwyth wedding party attendees!
Furthermore your guests will find themselves joyfully immersed in Andy's sleight of hand magic!
For experience and entertainment value Andy's wedding and party magic must be seriously considered!
Andy loves Wales. As a matter of fact he has performed there many times in nearby Lampeter and Ceredigion.
FIVE MILLION YOUTUBE CHANNEL VIEWS
Devilishly tricky magic! A playing card with a signature is pushed inside a solid bottle!
MAGICIAN ABERYSTWYTH WEDDING MAGIC

MAGICIAN ABERYSTWYTH YOUTUBE VIEWS

Conjuror Andy is also a celebrity YouTube performer! His online magic video performances have gained millions of views over the last ten years for his sleight of hand card tricks and street magic.
View more of his table top magic.
The Rabbit and Hat Illusion updated and performed live. Powerful and heart racing magic!
MAGICIAN ABERYSTWYTH BIRTHDAY PARTY ENTERTAINER 

While looking to secure a magician for you wedding or Aberystwyth birthday party Andy highly suggests that you be sure and hire a solid professional. In other words this will give you confidence and peace of mind.
In general one of the best ways to ensure excellent quality of service is to read genuine past customer reviews.
Entertainer Andy is very fortunate in that he obtains a lot of regular feedback from many happy customers on his Facebook page.
MAGICIAN ABERYSTWYTH HIRE

To hire illusionist Andy for your event is painless and stress free! Simply fill out the enquiry form.
To obtain more information contact Lisa or Andy as soon as possible. We very much look forward to serving you.
HOW MAGIC CAN BENEFIT YOUR WEDDING OR PARTY

In a word it is all about creating a super atmosphere! If you can achieve this then your wedding or birthday party will run its merry course and be the talk of your guests.
Spellcaster Andy and his magic are very flexible, please note that he requires no stage. No setting up. He can relocate where your guests congregate, inside or out and can start and stop performing in a blink of an eye.
He can act as a host / magician who can blend in effortlessly and as a result can welcome your family and friends by breaking the ice and entertaining with powerful magic and mind reading.
LENGTH OF PERFORMANCE TIME

Less is more here. Remember it is better to leave people wanting more. In the past, people have asked Andy to provide a performance of four hours. This is far too long.
With any form of entertainment it is better for it to compliment an event rather than to smother it.
Talk to Andy or Lisa and they will suggest a performance time and package that would be perfect for your wedding or birthday party event.
MAGICIAN ABERYSTWYTH BIRTHDAY PARTY HIRE

To begin with he wants to work hard to give your guests a fantastic experience.
Furthermore Andy has worked in the wedding and party industry for many years and has much experience.
Overall magician Andy is a master at socialising and interacting. He is a natural entertainer and has a bag full of eye-popping magic!
As a result he is very easy to work with. Andy is reliable and trustworthy. You will feel confident working with him.
Above all Andy has affordable fees and packages to suit all weddings, parties and corporate events.
MAGICIAN ABERYSTWYTH TABLE TOP MAGIC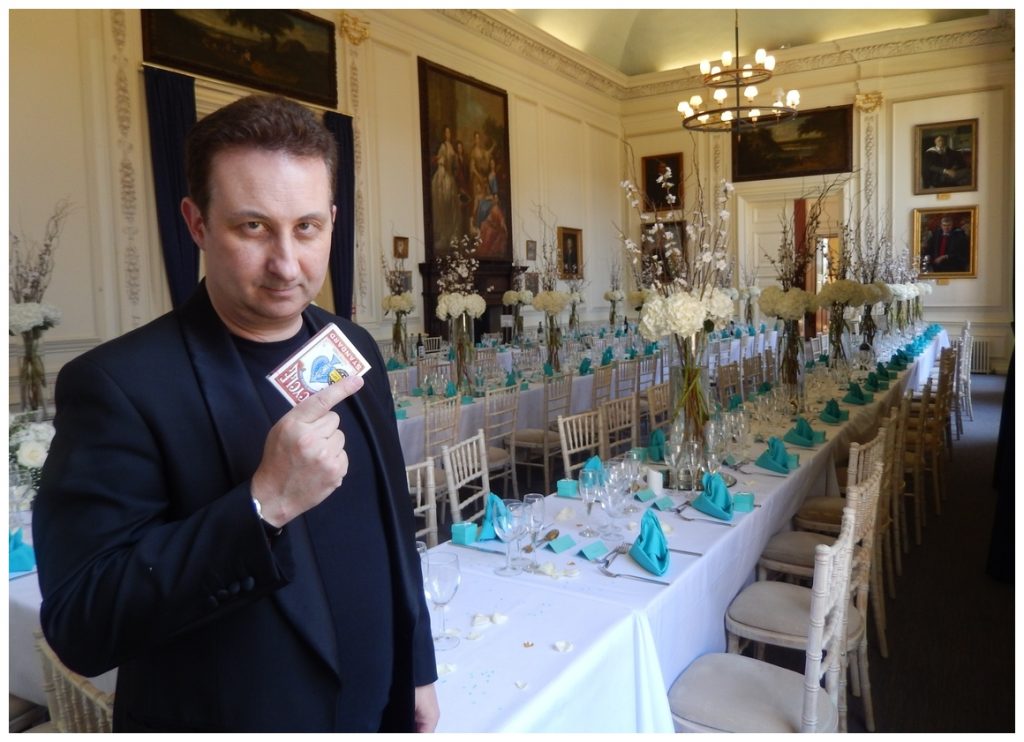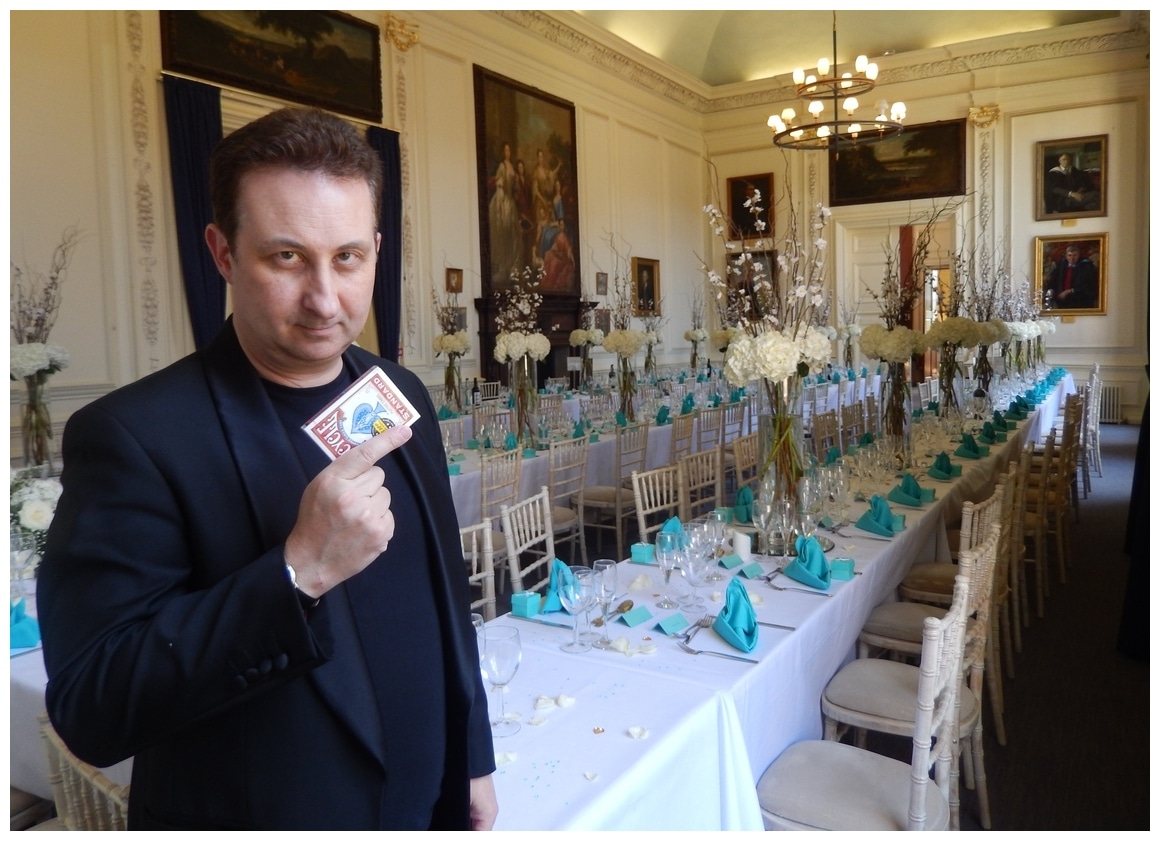 Have Andy perform around the tables in between food servings during your wedding breakfast. Listen to how your family and friends laugh and react to his magic.
Watch how Andy will break the ice and bring people together during the start of the evening reception.
Feel how exciting the atmosphere is as magician Andy circulates around your guests during the photo call and drinks reception.
These are all examples of opportunistic moments where Andy's sleight of hand artistry can stop any stagnating moments from developing.
Remember the secret rule to achieving a perfect wedding or party. It is all about creating a marvellous atmosphere.
ABERYSTWYTH MENTALSIM MAGIC

Interestingly to inject flavour and variety into his performances Andy is also able to create the impression of being able to obtain secret through from your guests! Mind reading!
Think of a number or date, Andy will tell you the thought. Imagine a picture and he will describe it to you.
Magician Andy is even able to make stunningly accurate predictions of events that are yet to happen! As wedding entertainers go this form of entertainment is very unique!
This is all included within Andy's act and there are no extra costings for this. Book him today and let him make your event a resounding success!
MAGICIAN ABERYSTWYTH CHRISTMAS PARTY'S

Magician Aberystwyth Christmas parties
Christmas is the most magical time of the year! What can be more appropriate than Andy's close up magic!
Perfect entertainment for your Aberystwyth Christmas party celebrations! Sleight of hand illusions around the tables. Walk about close up magic at the drinks reception.
Is it possible to be too happy during the festive season? Probably not! Better not take any risks! Get in touch today!