Professional magician in Chepstow who is available for weddings, parties and events. One of the top local entertainers.

Magician For Weddings
Andy Field the wedding and birthday party magical entertainer has been reviewed as fantastic!
The client has final say!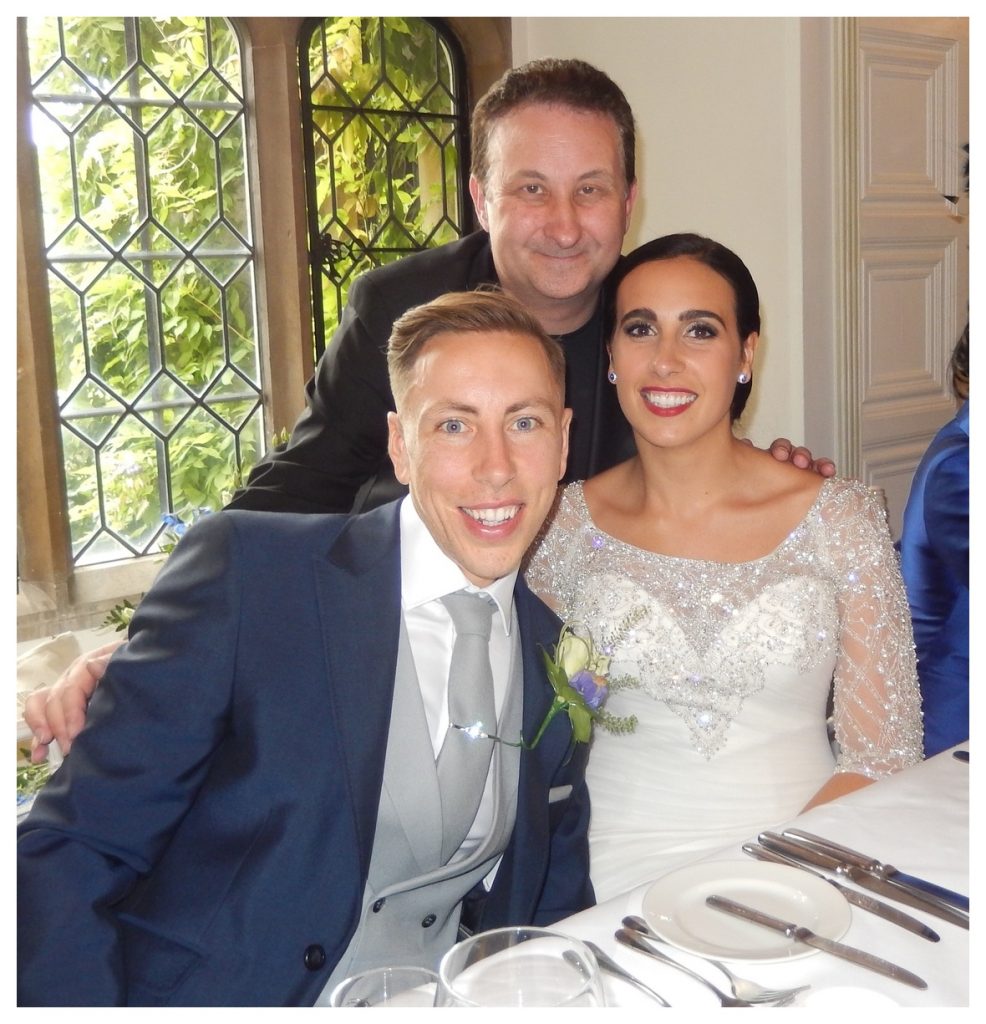 A memorable showman who combines powerful sleight of hand with engaging presentations.
Razor sharp close up magic which delivers a bullet train of entertainment!
FIVE MILLION YOUTUBE CHANNEL VIEWS
Andy Field "The Wedding Magician"  Beautiful and engaging close up magic. 
MAGICIAN CHEPSTOW WEDDING MAGIC

Your Chepstow wedding guests will need to feel happy and relaxed. Especially during quieter moments of your wedding day.
With this in mind let professional magician Andy Field look after them and entertain them with his walk around magic.
Chepstow magician Andy is a former S.A.M.S. Champion of Close up Magic. To begin with he has a box of secrets that will blow your guests minds! In a nice way of course!
All in all your wedding and party guests will find his performances amazing, enthralling and satisfying!
MAGICIAN CHEPSTOW EXPERIENCE FOR WEDDINGS AND PARTIES

Magician Andy is also known as "The Money Magician." To clarify he is full time professional sleight of hand illusionist.
Former S.A.M.S. Champion of Magic has years of experience tucked up his sleeves. He has 5.5 million YouTube views and has even supported the BBC in their production of the drama series "Hustle".
MAGICIAN CHEPSTOW BIRTHDAY PARTY HIRE

So you have your heart on securing a magician for your Chepstow birthday party? As a result it is logical to secure an excellent magical entertainer!
For instance a magician who has strong sleight of hand magic skills. An entertainer who is an experienced showman. An illusionist who can present their magic without offending any of your wedding or party guests!
Read what former clients of Andy have to say about his tricks. They describe his close up magic as being outstanding. Overall his personality and presentations are memorable and superbly delivered! Find out more.
MAGICIAN CHEPSTOW HIRE FEES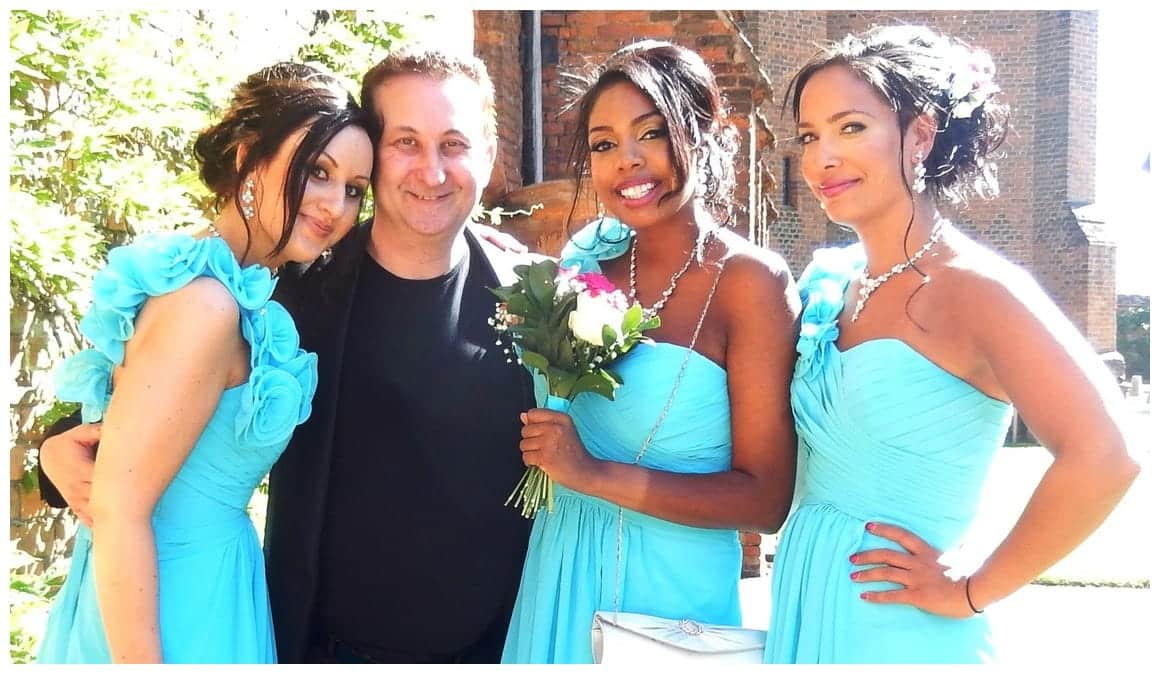 Chepstow wedding and party magician Andy Field wants to assign his skills and take part at your event. Furthermore make it an outstanding day for all your guests to look back on!
He has the knowledge and pedigree to deliver a five star performance. This makes him not the most cost effective wedding magician in Chepstow however he is not the most expensive either.
Please do get in touch. Andy or Lisa assist you with a no obligation enquiry.
CHEPSTOW MAGICIAN BRIDE AND GROOM PERFORMANCE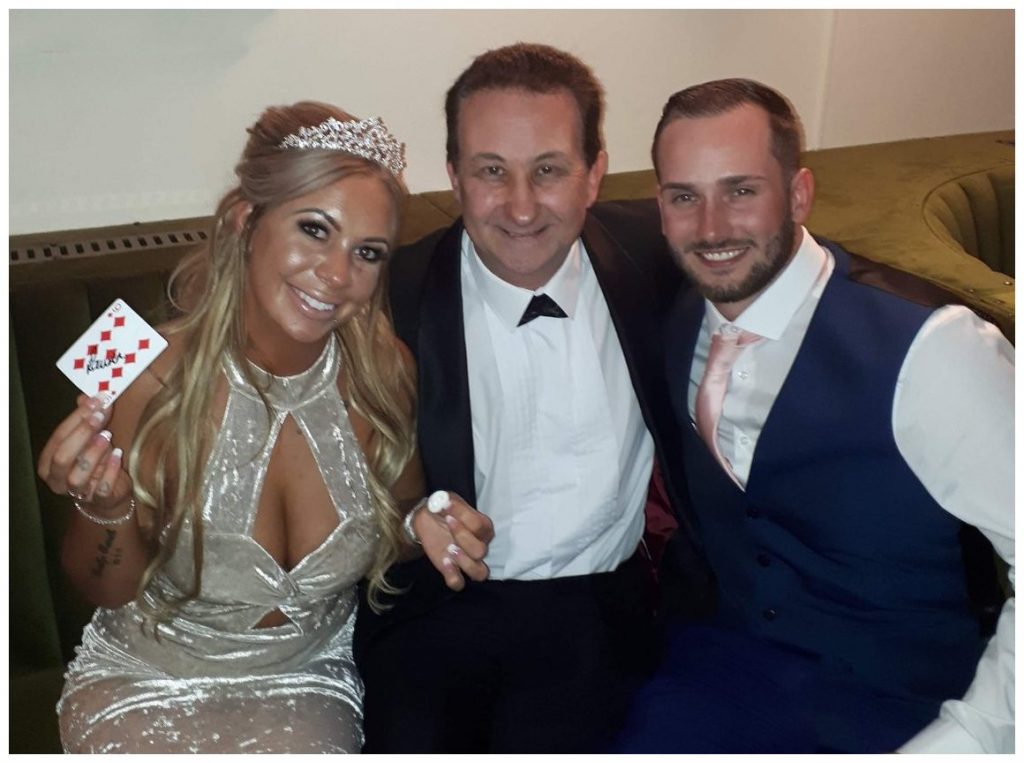 It is your special wedding day, so let Chepstow magician entertain you with a bespoke illusion. In both of your own hands he will create a beautiful piece of magic that will have you both holding your breaths in anticipation.
The result is a little souvenir keepsake that you will definitely want to retain forever!
MAGICIAN CHEPSTOW CLOSE UP MAGIC

Andy performs all over the UK as well as in Chepstow. He has earned the label from wedding guests as "The Money Magician".
As well as illusions with bank notes and coins Andy also provides sleight of hand with card tricks, playing cards, pens, rope and other small pocket articles.
These illusions can be performed to your guests while Andy walks around at your event or while guests are seated at tables.
The magic performed is right up close and personal. Small magic but with powerful impact!
MAGICIAN CHEPSTOW WEDDING HIRE

When performing his wedding magic Andy's thoughts are that skill and entertainment are everything. He wants each of your wedding guests to receive a VIP experience. So that your event is forever stamped onto the memories of their minds!
Altogether wants your Chepstow wedding to be perpetually linked with his performance. Making it the one event that people talk of!
MAGICIAN CHEPSTOW HIRE ANDY 

Aside from his razor sharp and entertaining magic here are extra benefits you will secure when hiring professional magician Andy for your Chepstow event.
Reliability and punctuality
An excellent host and party mixer
In a word experience
As well as a strong showman with presentation skills
Likewise a fun and gregarious personality
MAGICIAN CHEPSTOW CHRISTMAS PARTY'S

Andy magic to capture your Chepstow Christmas party atmosphere!
When you experience Andy's close up magic it will become apparent that he has spent many hours perfecting his act.
Sleight of hand magic with just about any object you care to mention. Plus a little mind reading just for good measure!
Get your Chepstow Christmas party started with a boost of energy! Professional close up magic for your event!
MAGICIAN CHEPSTOW QUESTIONS AND ANSWERS

How much is a magician in Chepstow?
Andy has various competitively priced packages. Please get in touch for a fast quote.
What is the best time for a magician to perform at our wedding?
Popular times are when there are lulls. Such as during the photo shoot or evening reception. 
How long do you perform?
The answer is for just enough! No too much or too little. Get in touch and tell me about your event. I can help you from there.
Andy performed at our 10 year wedding anniversary party. Everyone was blown away & were very impressed with Andy's talent. I would 100% recommend. Thank you Andy for making our evening even more magical!
Claire – Chepstow