Andy Field is a London magician who regularly works and performs in the city. Powerful close up magic for weddings and party's.

MAGICIAN LONDON ANDY FIELD
London wedding magician. London Birthday party magician.
Addictive close up magic for your event!
Competitive London magician packages without compromising on quality.
Former S.A.M.S. Champion of Table Top Magic
5,523,597 YouTube channel views
BBC "Hustle"
Experience and showmanship to help consolidate the atmosphere of your event!
LONDON MAGICIAN
WEDDING AND BIRTHDAY PARTY HIRE
Check the one minute wedding trick!
London magician Andy Field links magic and showmanship together!
Andy Field is a full time magician who performs in and around London. A professional magician with twenty years of experience.
He specialises in performing powerful close up magic. London weddings and birthdays parties are his speciality.
However he will also use his experience and humour to create a superb ambience  for any event.
MAGICIAN IN LONDON WEDDING HIRE

London magician Andy Field performs strong mix and mingle magic during drink receptions.
Trickster Andy conjures with playing cards, money and borrowed objects. He also uses theatrical presentations to give the illusion of being able to read minds.
When YouTube was first created magician Andy was one of the most watched magicians in the UK on this platform. His YouTube magic channel now has millions of views. 
He has been a S.A.M.S. Table Top Magic Champion twice. Andy's magic knowledge was also used in the production of the BBC drama "Hustle".
MAGICIANS IN LONDON WEDDING MAGIC

Andy is unique in the respect that he creates a lot of his own illusions. Something that only the best London magicians are able to do.
With Andy's magic you are guaranteed to experience something beautiful and original. You will be lost for words. This is quite normal.
Andy specialises in close up magic with playing cards using his "Trick Hands". He also uses borrowed objects such as coins, money, mobile phones, jewellery and even food for interest and variety.
Andy has performed around the city of London. Here are some of those venues.
The AA Club in Pall Mall,
The Press Club in Piccadilly
Berners Tavern in Soho.
Hendsor House,
The Varsity Hotel and Spa,
Cams Hall,
Botleys Mansion,
MAGICIAN IN LONDON BIRTHDAY PARTY HIRE

Andy always keeps a few tricks up his sleeve for your London birthday party guests!
Andy is a full time sleight of hand London birthday party magician. He has been S.A.M's Magic Champion twice. His gambling and scam knowledge has been used to help the production of the BBC drama hit "Hustle".
Not just a London birthday party magician. Conjurer Andy Field also performs all over the UK. He is the people's choice for weddings, parties and similar events. 
Using just a regular deck of poker playing cards he will perform truly excellent close up magic. His Facebook page reviews hold him in high regard!
MAGICIAN IN LONDON BIRTHDAY PARTY ENTERTAINER

Magician Andy for London birthday parties!
His style is playful and he has an appealing personality. While performing he will never put people down or make them feel uncomfortable.
In fact his mix and mingle magic has the contrasting outcome.  He makes people feel glorious! Most of all thoroughly entertained and amazed.
Out of the ordinary close up magic for your London birthday party! Magical fantasy at its best!
Sleight of hand magic assured to break the ice. Let Andy's magic connect your guest together!
MAGICIAN IN LONDON CLOSE UP MAGIC

Watch Andy perform his close up magic. Look into the eyes of his audience. You will see joy even more beautiful that the stars at night!
Andy combines thousands of hours of practice with just as many hours of learning how to interact with people. Being a people person is such a great way to get on in life.
His style is friendly and relaxing. Powerful magic that is delivered with passion and is hard hitting. Each and every time.
MAGICIAN IN LONDON TABLE TOP MAGIC HIRE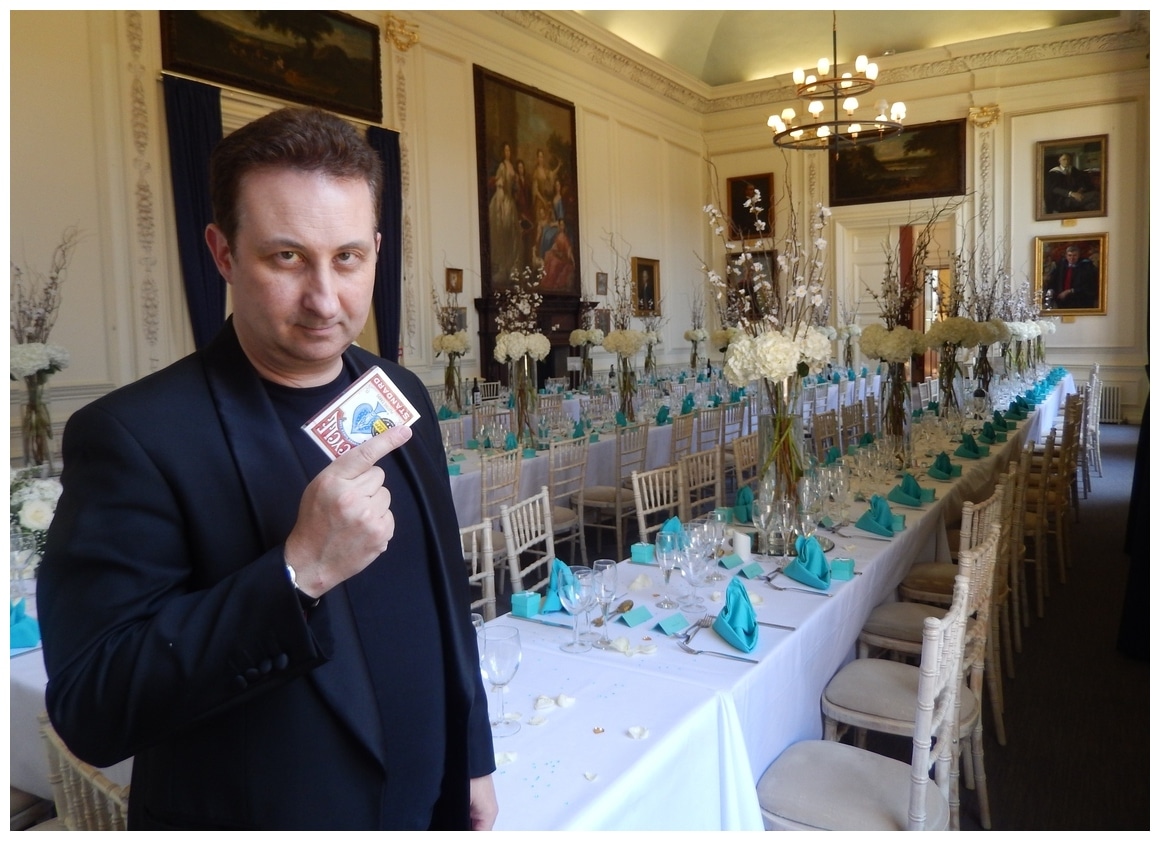 Upbeat London table top magician Andy Field!
Andy's table top magic will suit your London event right down to the ground! You have your venue and your audience. You have some tables. All you need now is to add Andy to your London wedding or birthday party. Time for some sharp and entertaining magic!
Andy can stop and start at the drop of a magic hat! Move around freely. Perform magic in between speeches and presentations. Visit the V.I.P. tables. 
The word here is flexible. The only recommendation is that he not perform while your guests are actually trying to eat. In between food service is ideal. Especially while people are waiting for service.
MAGICIAN IN LONDON CORPORATE HIRE


Overall fees for a wedding or birthday party magician in London will vary considerably. As a guide be expected to secure a professional magician from £500 upwards.
Andy is not based in London. This means his magician hire fees do not reflect the cost of living in London.  He is able to travel in and out of the city with minimal costs.
Therefore can provide rock solid magical entertainment for your event at a competitive price. Without compromising on the quality of the service you receive. A win – win situation.
MAGICIAN IN LONDON CHARITY EVENTS

MAGICIAN IN LONDON CHRISTMAS PARTY'S

Dazzling close up magic for your London Christmas party!
Capture the spirit of Christmas with Andy's close up magic! Aside from performing excellent magic Andy will connect with his audience. This is crucial for a top performance to take place.
He will accomplish this in two ways. Firstly by using his experience and secondly by using his people person skills.
MAGICIAN IN LONDON PRIVATE PARTIES

Magician Andy Field for your private party in London.
Roll up roll up! What's your pleasure ladies and gentlemen! A wedding anniversary? A 21st birthday party? A family drinks party or V.I.P. launch?
Whatever your magical needs and wants are magician Andy can pull off the impossible! Satisfaction guaranteed!
Presentations to charm the ladies. Miracles to get the men shaking their heads. Illusions that will make everyone give Andy a high five! – It is all here waiting for you to experience!
Magician In London Hen Party's

Illusionist Andy Field for your trendy London hen party!
How cool would it be to push the atmosphere of your London hen party into an upwards trend. From guests assembling quietly at the start to breaking out perfectly towards the end!
This is the secret to throwing any success event let alone a hen party in London. The secret is to give your guests something to entertain them beyond comprehension! 
Andy's goal is to deliver a bespoke hassle free service combined with splendid showmanship!
MAGICIAN IN LONDON MAGICIAN FOR HIRE PRICES AND FEES

London magician hire prices and fees 
If you have had quotes from London magicians you will wonder why they vary so much! There are many reasons for this. Skill, experience, popularity and status being the main ones.
Andy does not charge a fee for time. His worth is determined by results. For example would you like a budget priced magician to turn up wearing a nice bow tie. Or would you like an experienced showman to rock your event and perform incredible magic?
If yes then there is a premium for this. However, here is the good news. Andy does not live in London. Therefore he does not have high living expenses. For this reason he can pass excellent savings on to his clients without compromising on the service they will receive. Why pay more?
Andy frequently travels in and out of London all year round and these travel expenses are minimal.
Table Magician London Testimonials

Andy you are such a star! Thank you for making our night at the Tooting Tram and Social Club in Broadway a huge success. My sister wants to book you for her wedding next year!
Rachael Marsh, London
To Andy, Just a not to say thank you for the 1st June at Priston Mill. Our guests thought you were fantastic. Everyone was very impressed.
Lauren & James London
Andy, Thank you for you amazing magic at the Gipsy Hill Tavern last night. You were amazing. My friends and family told me that they wanted to keep you there all night! I have your card though so I will definitely be in touch at some point in the future.
Rich Ball, Gipsy Hill, London.