SOUTHEND-ON-SEA WEDDING MAGICIAN


Professional magician Andy Field can supply outstanding and entertaining magic for your Southend-on-Sea wedding, party or corporate event. His marvellous magic skills have been used for the BBC drama "Hustle" and he has been S.A.M.S. Close up Magic Champion twice.

MAGICIAN SOUTHEND-ON-SEA 
Interactively beautiful close up magic for weddings and birthday parties.
Experienced magical entertainer and Showman Andy is available for hire.
Previous S.A.M.S. Champion of Up Close Magic.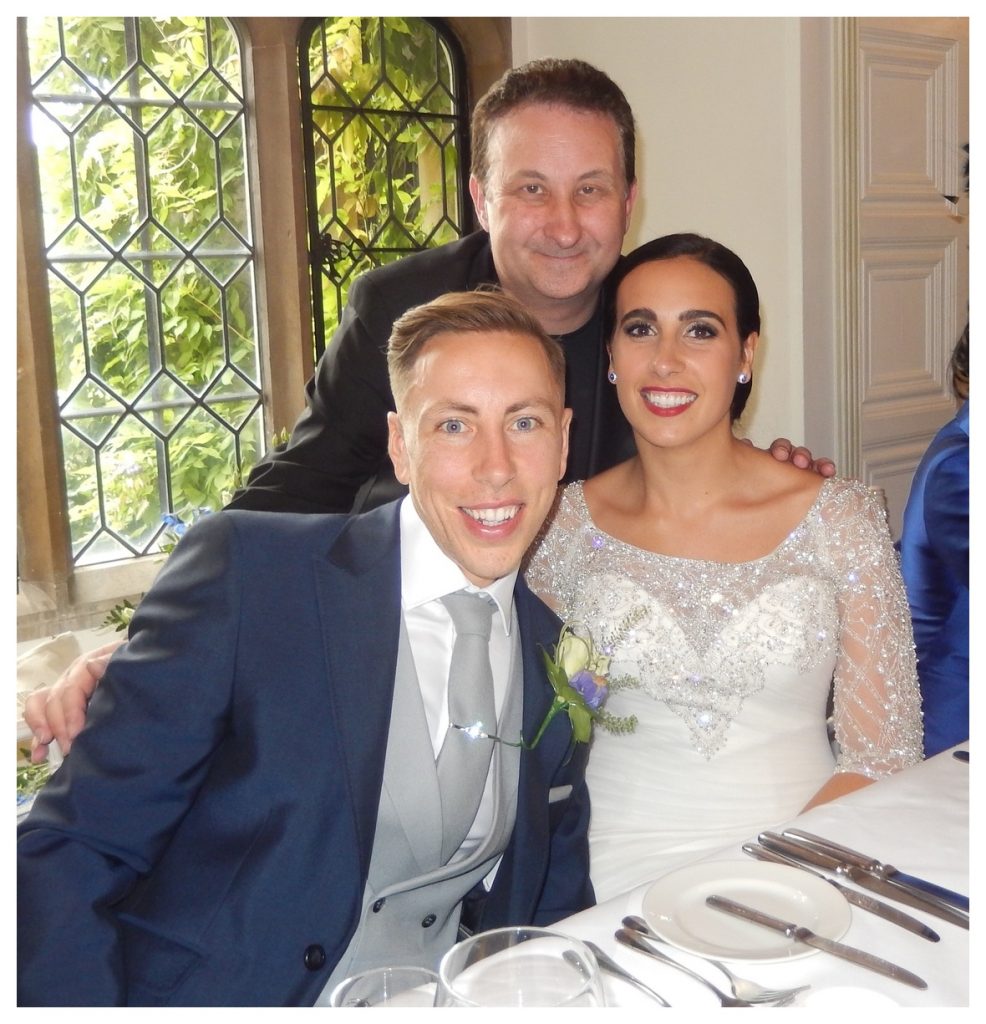 Powerful magic! Always presented with heart and humour.
Walk about magic specifically designed to create laughter and memories!
"Get the ice broken" at your Southend-On-Sea wedding or party!
SOUTHEND-ON-SEA MAGICIAN
5,512,833 YOUTUBE VIEWS
Original and unimaginable sleight of hand. Highly effective and extremely clever conjuring! He is the perfect "Ice breaker!"
Magician In Southend-On-Sea Weddings

Exceptional walk about magic for your Southend-On-Sea wedding!
Picture the scene at your Southend-on-Sea wedding. For instance all your family and friends are there to share your special day.  However, there is a little down time. This is a golden moment of opportunity to have your guests entertained!
Enter your personal Southend-on-Sea wedding magician Andy Field! He is just the showman to mix and mingle with your wedding attendees to make you special day even more memorable for your guests!
As a result Illusionist Andy's sleight of hand magic will draw your guests in. It will keep them there in a curious grip until his sleight of hand illusions reach an amazing climax!
Southend-On-Sea Wedding Magic 

The Photograph shoot

– Perfect for walk about magic.

Around the tables

at the wedding breakfast – Table top magic.

Room preparations

– Mix and mingle magic.

At the drink reception

– Sleight of hand magic.

The evening reception

– Ice breaking magic for everyone.
Magician in Southend-On-Sea Wedding Hire

Unpredictable and definitely entertaining walk around magic!
All weddings have pretty chair decorations and napkins. Although important these will not be forever remembered.
Andy's magic will. How many times in their lives will your guests have seen a pure showman read their minds with mentalism magic? Create money from nothing or perform impossible feats of sleight of hand right within touching distance?
Not very often! These miracles will have a strong impact on your guests. They will be amazed, enthralled but about all entertained!
A fantastic atmosphere is sure to grow bigger! Just what your Southend-On-Sea wedding deserves!
Southend-On-Sea Birthday Party Entertainment For Hire

Andy's magic is full of heart and impressively entertaining!
Large events such as Southend-on-Sea birthday parties generally have a large number of guests. As a result your family and friends will need food and drink. What is more they will also need entertaining!
Having a marvellous atmosphere in which they can relax and feel marvellous in is what helps create a fantastic atmosphere for your event!
Andy's goal it to leave his audience feeling that they have met an incredible magical performer. An illusionist who can create outstanding miracles which they will remember forever!
Magician in Southend-On-Sea Reviews / Recommendations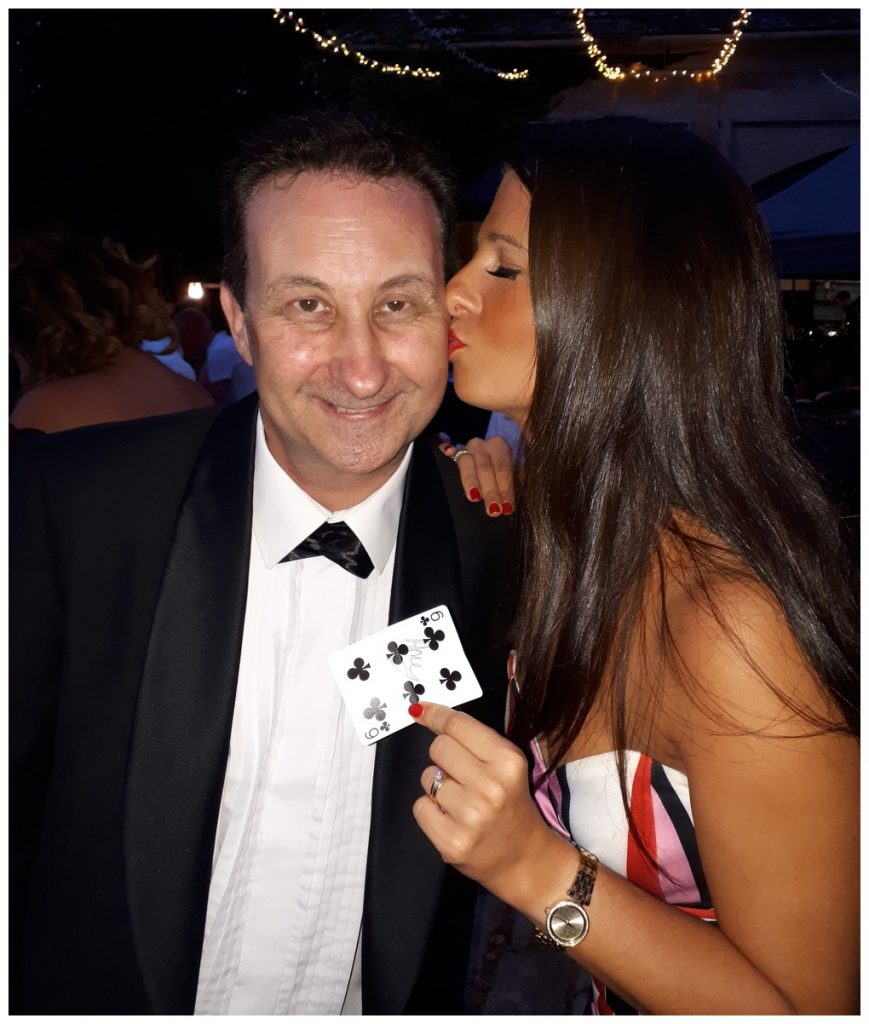 Heart warming magic to impress your Southend-On-Sea wedding or party guests each and every time!
Over and over without a pause Andy's former wedding and party clients will recommend him for your event in a heartbeat!
Read what people have to say about Southend-On-Sea wedding magician Andy and his amazing close up magic tricks.
As you will see, Andy's act has been reviewed as being absolutely amazing. His magic hits home. Combined with his playful and engaging presentations he will bring a wow factor to your event!
Magician in Southend-On-Sea Price

If Southend-on-Sea party conjurer Andy is performing his atmosphere creating walk around magic at your wedding or birthday party, then his performance time is usually determined by numbers of guests.
Generally ten minutes per 5 to 6 people is normal but this is a tangible estimate.
As each Southend-on-Sea wedding or birthday party will be different and you wish to receive an accurate quote then it is best to email us with your event details for a quick and definitive price.
At the end of the day you are paying for Andy's skill, knowledge, showmanship and experience over his travel costs which are minimal.
Magician in Southend-On-Sea Birthday Party Entertainer

Southend on Sea birthday party magic that packs a punch!
Overall Andy's act is suitable for any ages and for any events. A family show. Over the years he has performed at weddings, wedding anniversaries, birthday parties, corporate events, VIP events and other similar functions.
Illusionist Andy will even supply sleight of hand for bespoke events such as private dinner parties, golf events, shop openings, gala events, house parties and university balls.
Magician in Southend-On-Sea Table Top Magic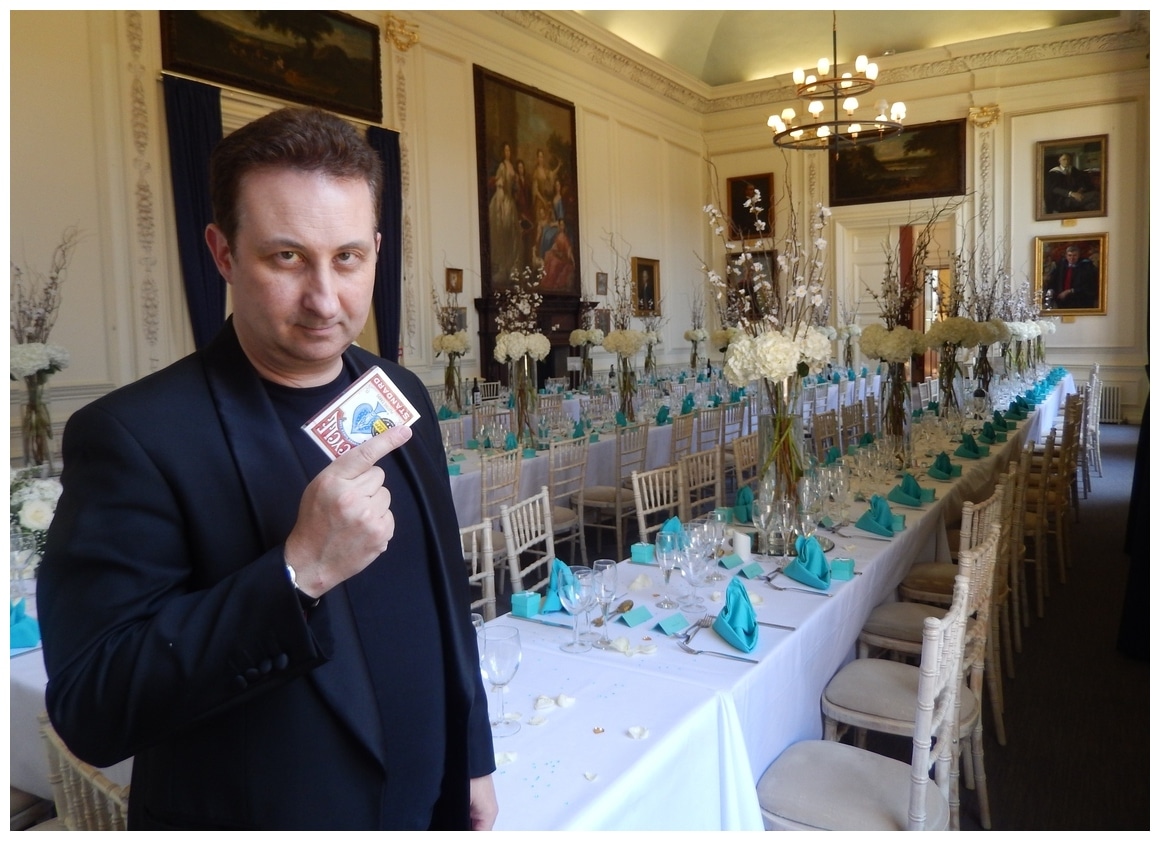 Trickster Andy is coming over to deceive and lie to you. Nicely of course!
Southend-on-Sea Wedding Magician Andy has powerful sleight of hand skills combined with experienced showmanship.
He will use this knowledge at your wedding or party to ensure your family or friends receive top drawer entertainment. By and large why settle for second best?
To begin with maybe the gentlemen would love to see some poker cheating card demonstrations. Perhaps the ladies would like their minds read and have Andy make a connection with them.
Surely the Bride and Groom would like a little romance with their magic? Everyone loves comedy. Whatever your guests need Andy can deliver. He can mix and mingle with your gathering as easy as walking in a park.
Magician in Southend-On-Sea Close Up Magic

Sharp and dexterous sleight of hand for your Southend-On-Sea event!
Imagine at your Southend-On-Sea wedding or birthday party conjurer Andy has all your guests excited and spellbound with his magic! Andy's close up magic is very captivating and naturally addictive!
He will use his trick hands and thousands of hours of experience to conjure with a multitude of household items. Unbelievable close up magic indeed!
Objects such as pens, coins, playing cards, banknotes and similar pocket items are all used. Just try not to blink! Everything happens in the drop of a hat!
Magician Andy is also known as "The Money Magician!" He knows illusions like this are very popular with many audiences. The trickster himself has a multitude of money magic ready and waiting to perform!
Southend-On-Sea Charity Party Events / Fundraising

Sleigh of hand without card tricks for variety and interest!
As a fundraiser you may be tempted to try and hire a cheap magician for free. Try and refrain from doing this. Your Southend on Sea charity event must not run the slightest risk of being let down.
You could end up giving your VIP clients a cheap act that may even let you down at the last minute if the artist gets offered a paid booking over your event.
Much better would be to come and talk to Andy and see if a mutually beneficial agreement can be reached.
Under these circumstances you will definitely secure a professional, experienced and reliable party magician.
Corporate Magician in Southend-On-Sea

Close up magic and mind reading for your Southend-On-Sea corporate night.
Sleight of hand entertainer Andy offers a premier act for corporate events. Actually this service is the same as for any other event.
Powerful sleight of hand mixed amalgamated with engaging showmanship to ensure your guests leave your event with wonderful memories and feelings of top night out!
Close up magic featuring card tricks and sleight of hand can be performed around your dinner tables or as a walk about set.  Just bear the word flexible in mind if you have any special requests for Andy.
Southend-On-Sea Magic Tuition / Lessons / Teacher

Magician prices for tuition vary. The reason for this is that you are receiving a lot of knowledge and information for your fee.
Andy can teach the simplest card trick to explaining how to construct a professional magic act. Advice hints and tips and many years of experience can be passed on to a student.
For more details about magic lessons in Southend-On-Sea please check here.
MAGICIAN IN SOUTHEND ON SEA CHRISTMAS PARTY'S

Magician Andy and his "Tricky Fingers" for Southend On Sea Christmas parties!
Andy and his trick fingers can manipulate any object you can name. Coins, money, finger rings and playing cards.
He can even give the illusion of being able to read minds! His magic is interactive and perfect for all ages.
Above all incredible tricks combined with a sharp personality. As a result an excellent experience for your party goers.