MAGICIAN IN GLOUCESTERSHIRE


Andy is a professional magician in Gloucestershire who is available for weddings, parties and events in Tewkesbury, Forest of Dean, Cinderford, Coleford, Lydney and the rest of the county.

Magician in Gloucestershire For Weddings
A Professional wedding and birthday party entertainer who makes his magic look real and effortless!
Past S.A.M.S. Champion of Close Up Magic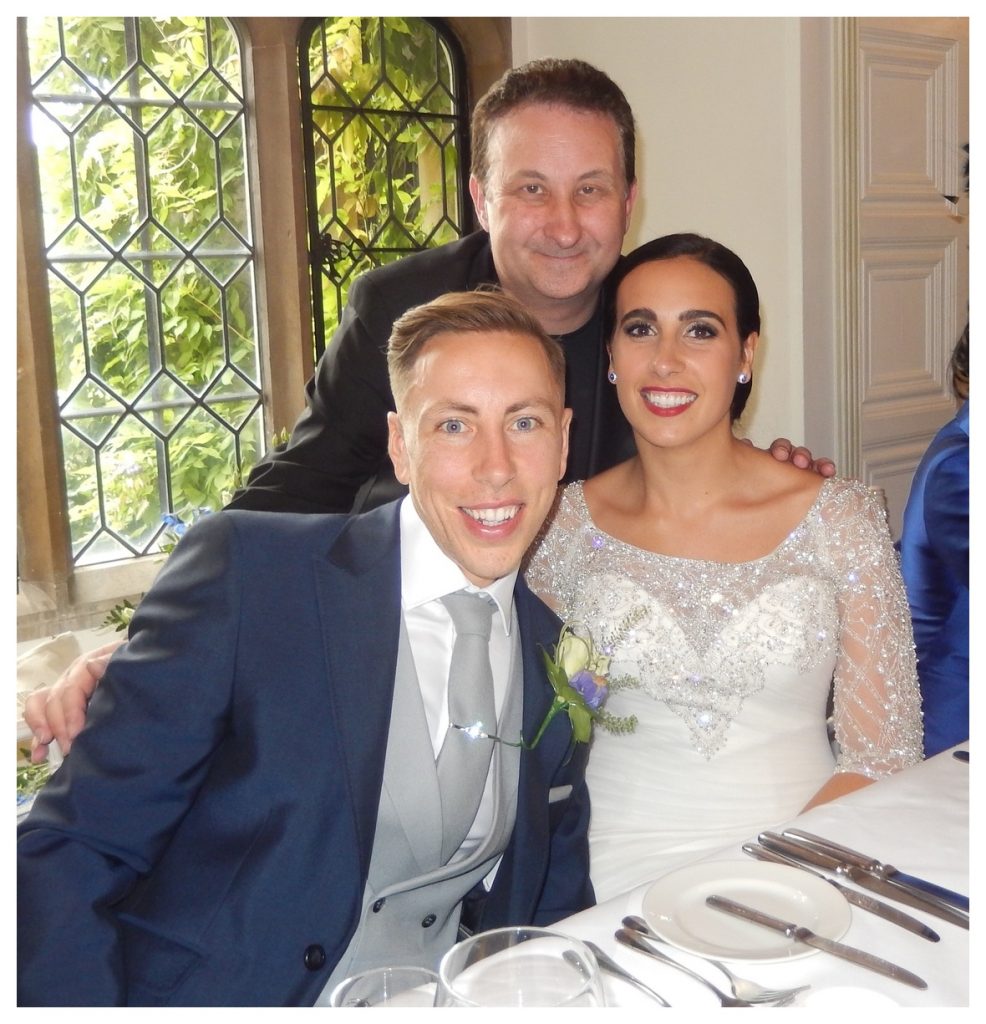 Up close and interactive. Thrilling walk around magic that will ice break and unite your guests.
Heighten the atmosphere of your occasion significantly!
MAGICIAN GLOUCESTERSHIRE
5,511,692 YOUTUBE VIEWS
Magician based in Gloucestershire Andy Field. Also known as "The Money Magician"
MAGICIAN IN GLOUCESTERSHIRE WEDDING HIRE

Just another day at the office – Gloucestershire magician Andy Field pushes a signed playing card into a solid bottle!
Full time professional wedding entertainer Andy Field is based in Gloucester. In fact he performs his head spinning magic all over the UK.  
Illusionist Andy is a supplier of close up magical entertainment. Overall he specialises in performances at weddings, birthday parties and corporate events. Impressing your guests with his engaging walk about magic is the name of the game!
A Gloucestershire wedding entertainer with a thousand secrets! In short he can unite your guests during arrival drinks, photo shoots and evening receptions. Ice breaking magic!
An exceptional sleight of hand magician who has the knowledge, skills and experience. His card trick sleight of hand has gained millions of views on line. The long running BBC drama "Hustle" has even used his magic knowledge.
MAGICIAN IN GLOUCESTERSHIRE BIRTHDAY PARTIES

Jo and Amy have two polo mints magically linked together in their hands by Gloucestershire birthday party magician Andy Field
Have you birthday party guests entertained with walk around magic! In short sleight of hand that is both contemporary and very satisfying!
Andy wishes for nothing more than for your birthday to have a fantastic atmosphere. Above all have your guests going home totally satisfied!
Conjurer Andy performs powerful sleight of hand with a variety of identifiable objects.  For example playing cards and money. He also performs illusions with rope, phones, keys, dice and also supplies mind reading and mentalism.
No more party lulls to fearful of. Andy is an excellent birthday party entertainer with skill, experience and showmanship. He will certainly strengthen the spirit of your birthday party atmosphere.
MAGICIAN IN GLOUCESTERSHIRE CLOSE UP MAGIC

Gloucestershire magician Andy Field has a playful and relaxing performing style.
Andy is friendly and confident. All in all he has a relaxing and humorous performing style. He wraps this around his strong magic. Miracles performed within touching distance of your guests!
In fact this crowd pleasing entertainment makes Andy's close up magic perfect for any event. Just name one. From Gloucestershire weddings and birthday parties. To corporate events, balls, charity functions and anniversaries he has performed at them all.
Have everyone well and truly entertained. Then send them all home happy!
GLOUCESTERSHIRE MAGICIAN FACEBOOK REVIEWS

To begin with Andy has a large portfolio of Facebook recommendations and reviews which grown weekly. One of the most reviewed UK wedding magicians in fact.
The following genuine reviews have come from clients all over the UK. Andy has entertained for them at their wedding or birthday party event. All in all people who have seen him perform his illusion live.
GLOUCESTERSHIRE WEDDING ENTERTAINER PERSONALITY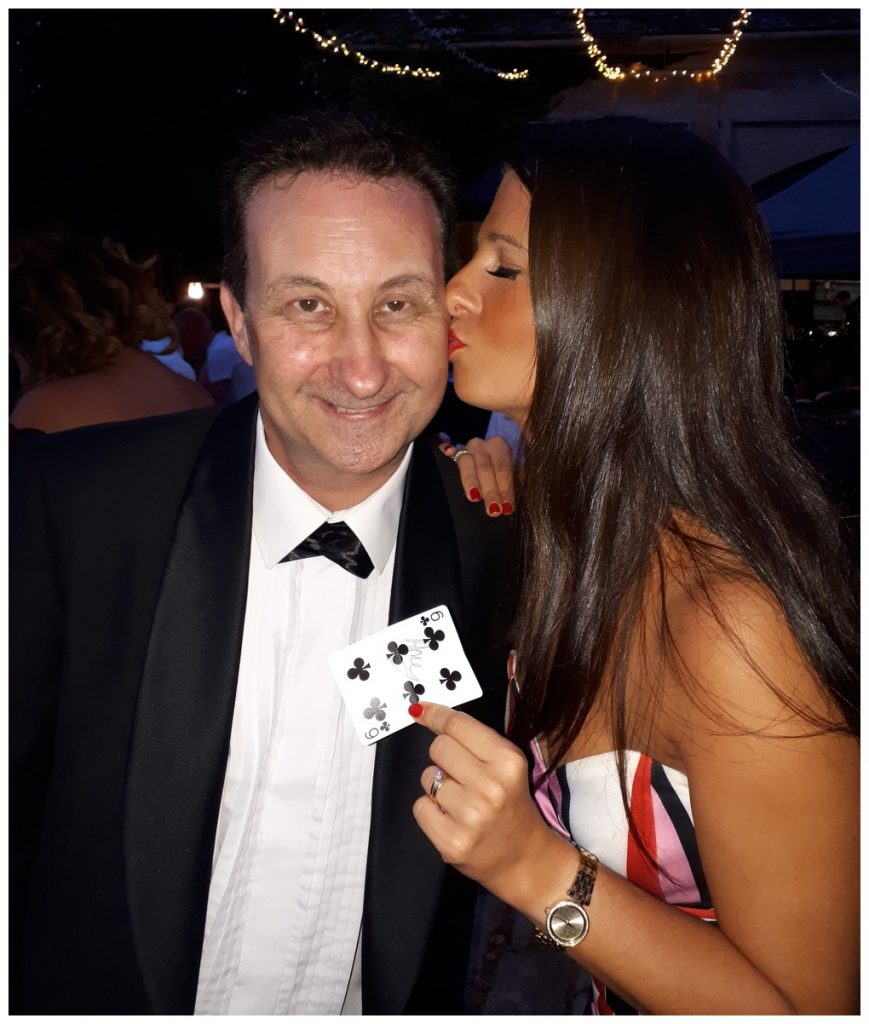 Gloucestershire conjurer with a warm-hearted personality for your event
Magician Andy's Facebook and Google reviews describe him as friendly and playful.  They also outline his services as great value for money.  His magic is described as mind-blowing and amazing. In fact he comes highly recommended by the public.
He is never rude or risqué in his magic performances.  Clients have booked Andy for his charismatic personality as well as his exception sleight of hand magical skills according to many of his on line reviews.
MAGICIAN IN GLOUCESTERSHIRE HIRE TIPS

When considering hiring a professional magician for your Gloucester event the best way is through word of mouth through a friend.
A Google search will give you many wedding and party magicians to choose from.  The first thing to consider is does your supplier have a wealth of experience? More importantly are they a people person? 
Performing magic looks easy. Bear in mind the skill of a performer needs to be able to manage people professionally at all times in all situations as well as fool and entertain them.
PROFESSIONAL WEDDING ENTERTAINER GLOUCESTERSHIRE

Close up wedding magic that looks so real
Remember the performer is representing you in front of your family and clients.  Hiring a professional with lots of experience is crucial. Even more so for a wedding or birthday party in Gloucestershire.
As for the magicians magical skills try looking for lots of videos of the magician in performance throughout their website. Are their guests being entertained or bored? A professional will always have videos because they want to show case their skills.
Also look for lots of media pictures of them performing at actual Gloucestershire weddings, birthday parties and events. Magician Andy has lots of these on his website.
A very good sign is the magician has lots of positive reviews from Facebook or Google.  These are very difficult to fake. More importantly are given by real people from weddings or events.
WALK AROUND MAGICIAN IN GLOUCESTERSHIRE

Passionately performed passionately for your Gloucestershire wedding or event.
Magician Andy's attitude to his magic business is that the customer is King!  He always strives to perform the most entertaining magic possible. He would passionately support your Gloucestershire wedding or event.  Plus make you look good in the process!
He creates a substantial amount of his own magical illusions. This in turn means that much of what your guests experience will be unique and original.  Surprise is a major factor in a magic trick!
This year magician Andy has created one of his best card tricks to date. This effect is currently wowing audiences all over Gloucester and the UK.
MAGICIAN IN GLOUCESTER CARD TRICK MAGIC

Consider this. Any playing card is freely thought of by a guest. The examined playing cards are then placed onto the floor or a nearby table.  
However at your guests command they cut by themselves. Not just anywhere. At the freely thought of card! In short poignant close up magic to stun your guest!
MAGICIAN IN GLOUCESTERSHIRE CHRISTMAS PARTY MAGIC

Magician in Gloucestershire for Christmas parties Andy Field!
Andy's close up magic will enhance how your party goers experience your Gloucestershire Christmas party!
All entertainment is best experienced live. Sleight of hand magic even more so. No stooges or secret helpers. No camera edits. With Andy what you will see is what you will get.
Mind reading. Signed playing cards destroyed and put back together. Only to then appear in ridiculous places!
Close up magic with cards, money and borrowed items. Hiring this fantastic people person magician is only an email away.
GLOUCESTERSHIRE MAGICIAN QUESTIONS AND ANSWERS

HOW MUCH IS A GLOUCESTER MAGICIAN?
Most people have never hired a magician before. So they do not have an idea of how much one will cost. On top of this magician rates are also confusing to work out! Luckily Andy's rates are easy to understand and are competitive. For example Andy does not add on travel expenses. He will simply give you a direct quote for a super session of magic. You pay a deposit and then the date is yours! Why make things complicated!
WHEN IS THE BEST TIME FOR YOUR TO PERFORM?
Any time when your guests are not eating. This leaves lots of opportunities for Andy to step in and entertain! The start of a event to ice break and get the atmosphere going is always a good option. Drinks receptions and photo calls at weddings are other great times.
HOW FAR AHEAD SHOULD WE BOOK?
The earlier the better. This way you are certain of obtaining the date and time you want. It also leaves you a little wiggle room should you decide to adjust your timings. Most people book a wedding six months to a year in advance.