Professional close up magician available for weddings, parties and events in Flintshire

MAGICIAN FLINTSHIRE
Former S.A.M.S. Champion of Close up Magic
Mix and mingle magic for wedding and birthday parties. Unite and entertain your guests!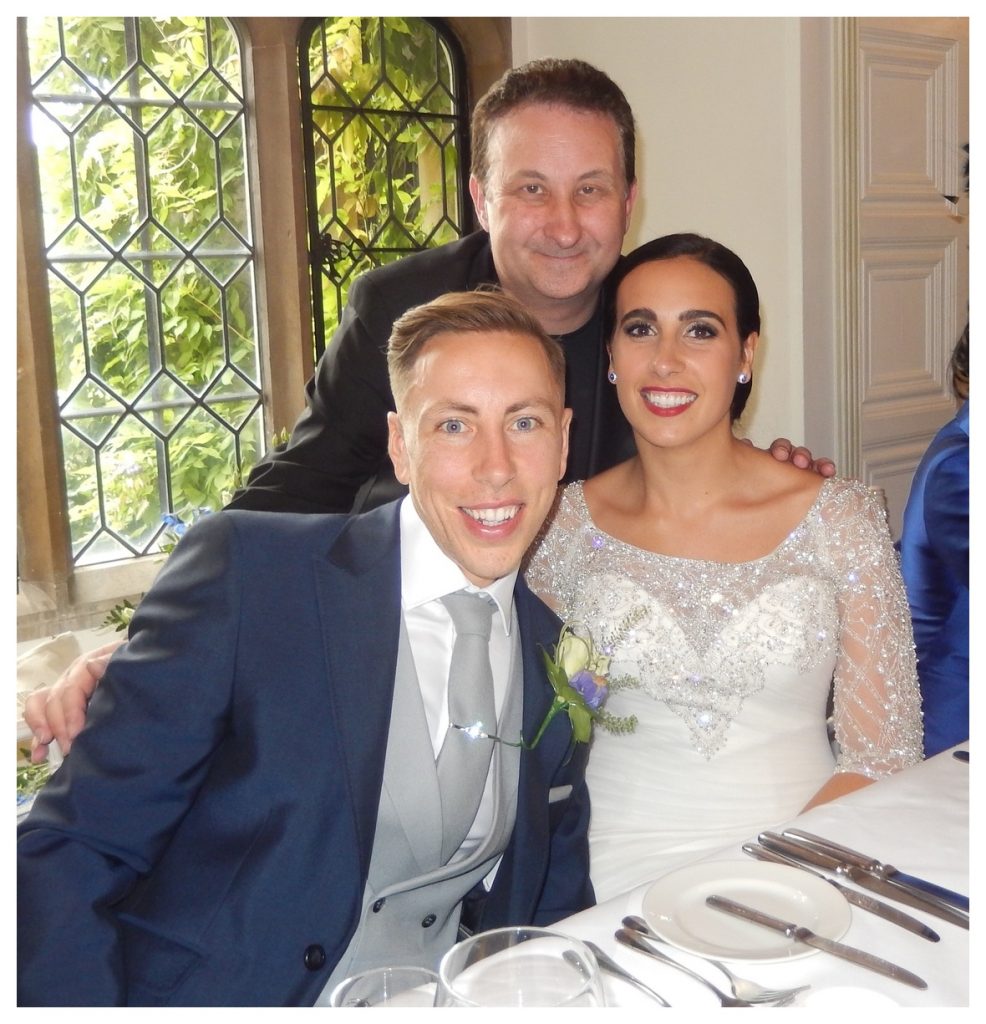 An interesting character with a collection of magic illusions that are a big hit!
Particular magic devised for weddings, parties and corporate events.
MAGICIAN IN FLINTSHIRE
YOUTUBE CHANNEL VIEWS TO DATE 5,345,264
Money making magic. Sleight of hand that looks real and effortless
MAGICIAN IN FLINTSHIRE WEDDING MAGIC

Masterful magic for your Flintshire wedding party guests!
Trusted Flintshire wedding magician Andy Field performs professional close up magic that is extremely compelling. A real crowd pleaser! Your big day will not be forgotten in a hurry!
Prior wedding clients tell them that their friends still talk of Andy's magic years on from his wedding performances! In fact some still keep playing card souvenirs that were used in the magic.
If you are looking for a professional magician in Flint to create a powerful and forever lasting impact for your wedding day then Andy is the magician for you!
Drink receptions, photo shoots and room changes are great performance slots. Even table top magic performances during the wedding breakfast will work beautifully. Between the food service naturally!
MAGICIAN IN FLINTSHIRE BIRTHDAY PARTIES

Send your guests home feeling great. Birthday party conjurer in Flint Andy Field
How about a birthday party where everyone is shy and quiet? Absolutely not! Get everyone settled with a drink. Then prepare to have them dazzled by Andy's walk around close up magic! Get a vibrant birthday party atmosphere flowing!
Conjurer Andy's magic is sublime and his personality is enrapturing. These two traits when combined together create Andy's exuberant act! This will give your Flintshire birthday party the energetic edge!
Andy's clients kindly leave wonderful reviews. Explore his Facebook Page. These recommendations grow naturally. They describe Andy magical dexterity as mind-blowing and phenomenal!
MAGICIAN IN FLINTSHIRE CLOSE UP MAGICIAN

Let Andy impress your guests with eye popping walk around party magic
Illusionist Andy knows one of the secret to creating a marvellous atmosphere at your wedding or birthday party celebrations. It is to combine cool close up magic with hosting!
Making guests feels warm and welcome is so basic but it is so often overlooked. With many years of experience under his belt as a professional magical entertainer your wedding or party is in safe hands – literally!
As he mixes and mingles with your guests performing his sleight of hand he will also unite people. Breaking the ice for your family and friends will happen naturally with the laughter.
MAGICIAN IN FLINTSHIRE WALK AROUND AND TABLE TOP MAGIC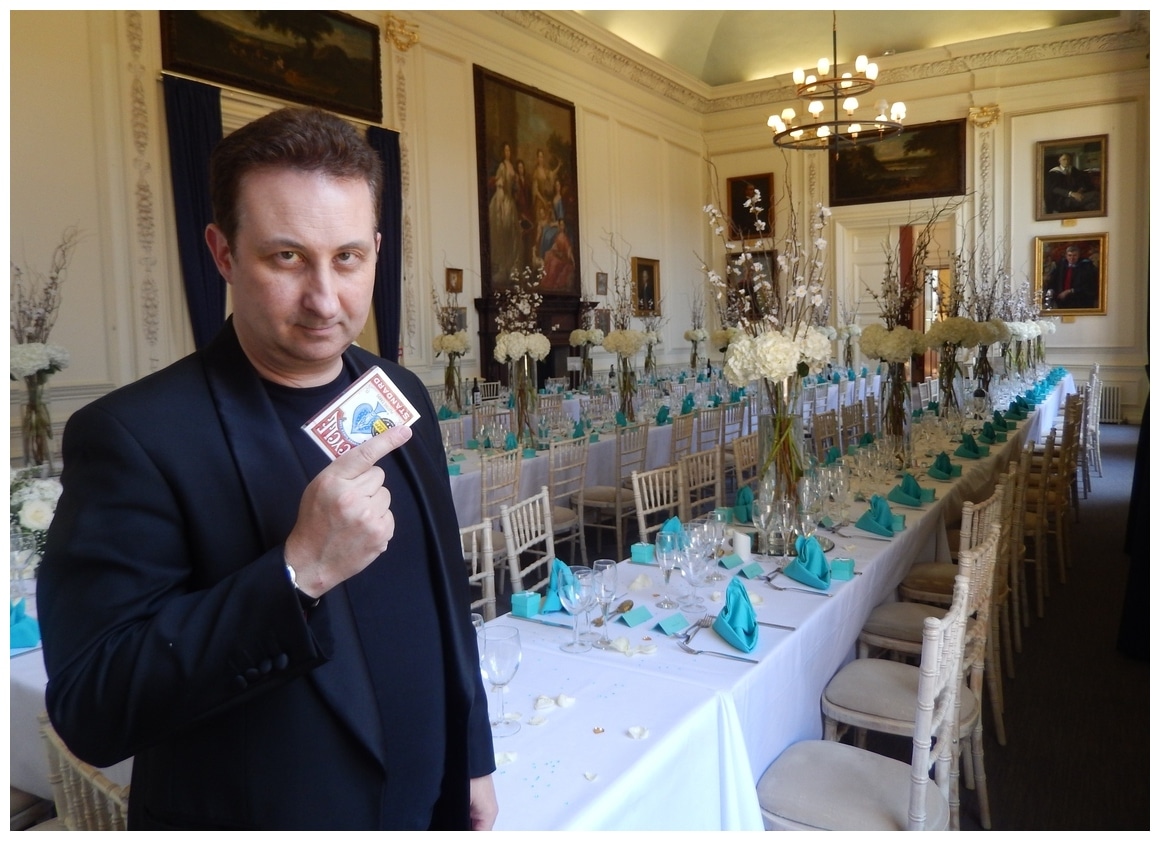 Always ready to impress and create a profound impact with his table top magic
As do most wedding and party entertainers Andy performs card trick magic. This is how he gained millions of views for his YouTube channel. However this only is part of his sleight of hand skills.
He creates magical moments with coins, phones, personal effects, plastic money. Contrarily he Andy also delves into mind reading. He will have you giggling one minute and totally amazed the next.
Andy's magic is suitable for balls, charity fundraisers, corporate events, golf club nights and any other celebrations you may think of!
MAGICIAN IN FLINTSHIRE PERFORMANCE TIMES

Stand back and watch how effortlessly Andy will have your guests laughing and applauding. Strong reactions will be evoked from them time after time!
Examples for excellent performance opportunities are:
By the bar,
Outside with drinks
Around the tables during the wedding breakfast
Magician Andy can even perform in the buffet line
The start of the party as an ice breaker
FLINT MAGICIAN WEDDING ENTERTAINMENT HIRE BENIFITS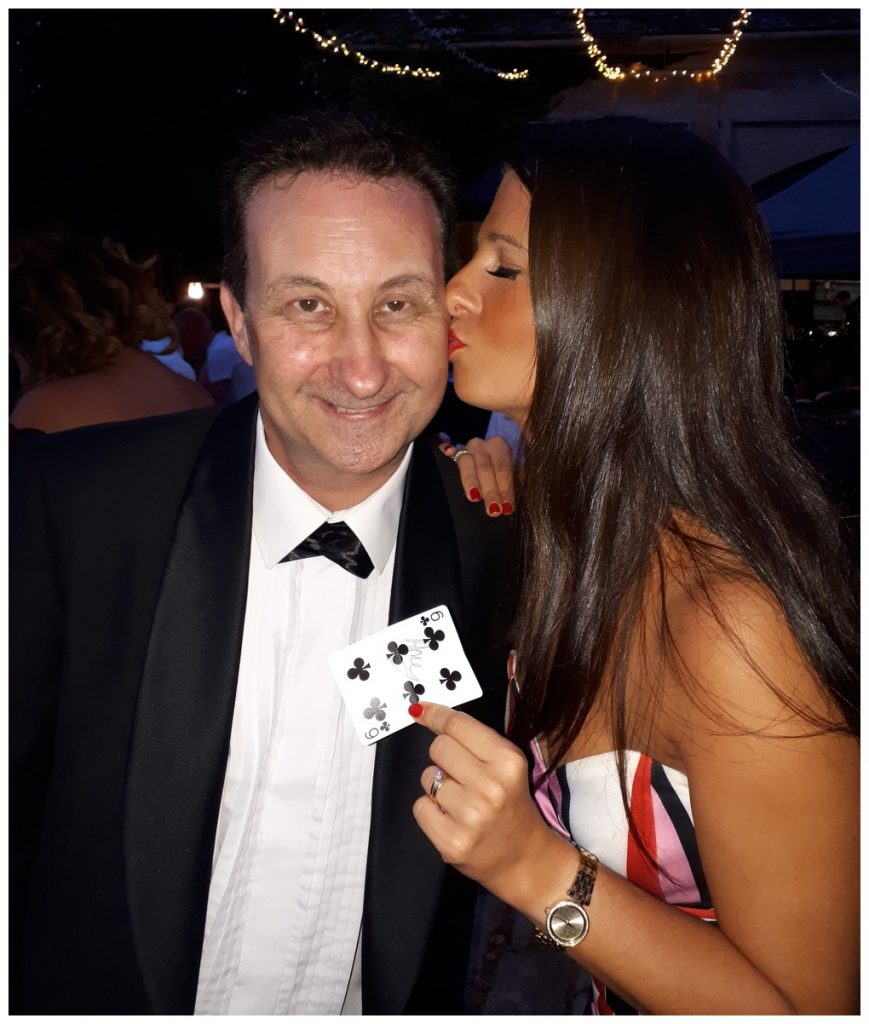 Heart touching close up magic for the ladies
If your Flintshire wedding or party has a great atmosphere then it will run its merry course and will automatically be a hit.
Andy's goal is to use his expertise, experience and entertainment skills to continually encourage this atmosphere to happen throughout the day. Namely by mixing and mingling with your guests.
Wedding photographers love to take pictures as magical entertainer Andy performs. Pictures of your family and friends looking happy all come as standard with Andy's magic!
Plus hiring Andy direct for you Flintshire wedding or birthday party will mean that you will not incur any agency fees.
MAGICIAN IN FLINSTSHIRE HIRE PRICES

When you receive a quote from Andy you will not be paying for his travel expenses or length of performance time. You will be paying for his close up magic and entertainment skills. In other words the high level of service provided.
Your fee will be for a "session of magic" best tailored to suit the requirements of your event. The idea is to have just enough entertainment for everyone and no more. Quality not quantity!
Each wedding or birthday party is different. To secure a free bespoke quote please fill out the contact form. You will receive a response shortly.
MAGICIAN IN FLINTSHIRE WEDDING ANNIVERSARIES

Personalised sleight of hand to celebrate your wedding anniversary
Want to have Andy magically produce an engagement ring for a loved one? Or have a special gift delivered in a magical way?
Come and talk to magician Andy and see if he can fulfil your request in giving a loved one an extra magical surprise!
MAGICIAN IN FLINTSHIRE HIRE TIPS

If Andy is not available for your wedding or birthday party event you will need to secure another professional magician.
Here are a few tips to make sure you obtain a solid and reliable performer with experience.
Your goal is to find a full time professional with experience.
Check that any reviews they have are genuine and not artificial.
Make sure they have good videos and pictures showing their work from lots of weddings and parties throughout their website.
Ask to meet them in person and see them perform if possible.
Make sure they have public liability insurance.
MAGICIAN IN FLINTSHIRE CARD TRICKS

This is usually the latest trick he has developed. Andy is always striving to create something new and original and that no other magician is currently performing.
Right now Andy is creating a sensation with combining his sleight of hand with his mind reading skills with his card trick called "Imagination"
A lady is asked to think of a playing card while she holds onto a blank card she has signed. In a heartbeat the blank card changes into her though of card while held inside her hand and it still bears her signature!
Always strong magic because there is no point in doing any other kind!
MAGICIAN IN FLINTSHIRE CHARITY EVENTS

Charity and fundraiser conjurer Andy Field
Andy has a bag of tricks and close up magic illusions that are perfect for your Flintshire charity event!
However, the most important part of hiring him for your fundraiser is that he is reliable, professional and affordable.
A very experienced charity and fundraising magician with many years of experience. Andy has got exactly what you need!
MAGICIAN IN FLINTSHIRE CHRISTMAS PARTY MAGIC

Flintshire Christmas party magic with Trickster Andy Field!
Flintshire illusionist Andy knows what his clients want. A simple booking procedure. A flexible package that will work beautifully alongside their event. Competitive prices.
Amazing magic that will entertain and mystify is something that Andy has been doing for many years. Repeat bookings are gained because his clients know they can trust him to do the business each and every time!
Andy's goal is to make you fall in love with his services so you will have him perform for future events!