MAGICIAN IN HERTFORDSHIRE


Professional close up magician available for weddings, parties and events in Hertfordshire

Magician Andy has a very strong repertoire of powerful illusions that are beautifully performed and are wrapped around enrapturing and witty presentations.
He is a showman as well as a sleight of hand close up magician! He is guaranteed to be a big hit at your Hertfordshire wedding or party!
With Andy performing close up table top magic at your wedding or birthday party your guests can have it all! 
FIVE MILLION YOUTUBE CHANNEL VIEWS
Andy pushes a signed playing card into a solid and sealed bottle. Then hands it out immediately for inspection. Powerful magic which hits home each and every time!
Magician in Hertfordshire Wedding Hire

Hertfordshire close up table magician Andy also performs up and down the UK.
In five months alone he collected a total of over one hundred Facebook recommendations from events such as weddings, corporate events, drink receptions and anniversaries.
Andy and his close up magic are extremely popular. His persona is reviewed as affable. His magic has been five star rated and described as "out of this world!" Andy's presentations are commented upon as being modern, upbeat and enchanting. Relax, put up your feet and browse through his reviews
Magician in Hertfordshire Close up Magic

As a magician Andy's magic is very popular. His videos are online and can be viewed here. They have been watched nearly six million times all over the world!  This figure grows daily!
Magician In Hertfordshire Wedding Entertainment

Magician Andy has very strong feeling regarding his magical services. He genuinely wishes for each of your wedding or party guests to experience a marvellous time at your event. He cares as much as you do that everyone is happy and satisfied.
For this reason he has a three "E" belief. At every event he performs at he brings Expertise, Entertainment and Experience.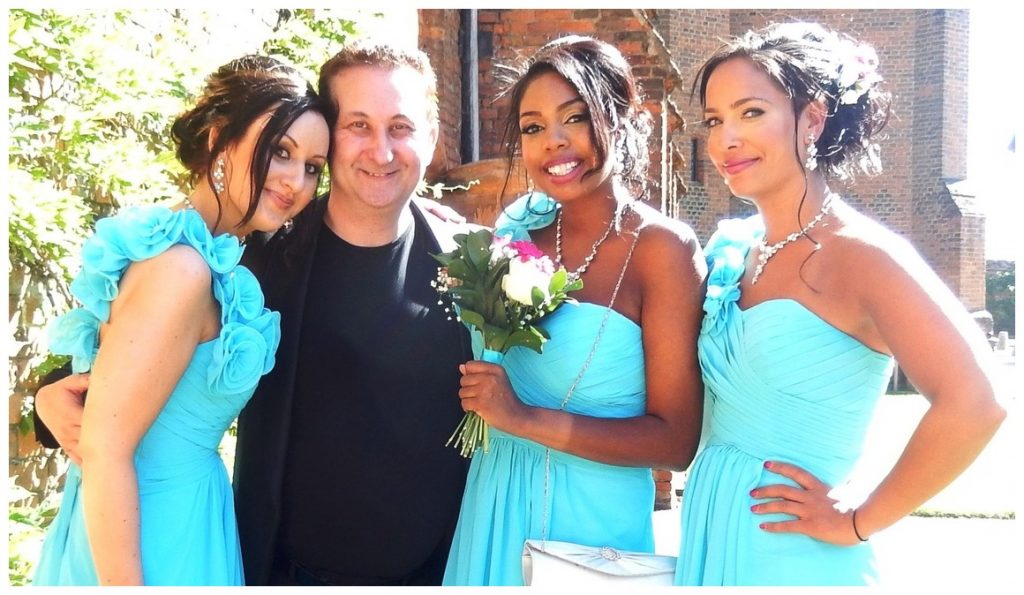 Magician in Hertfordshire / Table Top Magic / Experience & Showmanship

This is one secret he can reveal. How he creates a powerful impact with his magic that will leave a mark on your wedding and party guests will remember for many years!
Magician Andy has spent years on learning how to deliver and present his magic to people. He does not just amaze them. He has a captivating personality that will leave your family and friends feeling happy, relaxed and energised! It must be real magic after all!
Magician In Hertfordshire Wedding Magic

Andy's magic will tickle your guest senses! They will see miracles, hear gasps of amazement, feel surprised and with some tricks even feel the magic happen in their own hands.  Being able to make people experience moments like this is indeed a gift which Andy has and exploits for your advantage.
Magician Andy's number one tip to any Bride and Groom would be to focus on their entertainment. If guests are really happy and having a super time then this will be felt so much in the atmosphere and make a huge difference to their day.
So versatile is his act that he can perform at virtually any point of your wedding or party. However, below are a few key moments when having an interlude of magic help keeps the mood flowing when it might slacken.

This is a diamond opportunity for Andy to keep your guests occupied while you and your immediate family leave to have your pictures taken.

Would you like to hear cheers and loud applause from your guests and know that they are really having a great time at your wedding? Of course! This is an excellent time for an interlude of magic!

Magician in Hertfordshire Fee

Andy's feels that quality is always above quantity. His fee is not made up of travel expenses. Your quote will be based on the event that he will be supplying his knowledge, showmanship and of course sleight of hand skills.

Please initiate contact here. You will find that Andy or Lisa will be delighted to hear from you and will do their best to help you with your wedding or party enquiry.
Your wedding or party enquiry will be handled very quickly.
Hiring a Professional Hertfordshire Magician is An Investment

If you have ever stood up in front of a group of people and had to talk publicly then you will know how nerve racking this can be!
Professional wedding magician Andy has to do more than this. He has to engage, entertain, misdirect and fool his audience all at the same time. This is not easy to do and takes years to learn these skills to a proficient standard.
Always hire a professional for any important event such as a wedding or wedding anniversary. It pays dividends in the long term.
Magician in Hertfordshire / Corporate Hire

Magician In Hertfordshire Mind Reading Magic

Magician Andy also practices the illusion of being able to pick thoughts out of people's heads! This is also known as ESP or mind reading. Two acts for the price of one!
Secret thoughts can all be gently removed from your wedding or party guests such as bank note numbers, four digit pass codes for phone and names of loved ones!
Andy combines mind reading with his magic, a unique blend of the two arts entwined together.  There is nothing to fear. Andy does not claim to have supernatural powers. But if he did then it may look something like this!
Magician In Hertfordshire Christmas Party Magic

Magician Andy Field for Hertfordshire Christmas parties!
Andy's close up magic for your Hertfordshire Christmas party will contain skill, knowledge and experience.
All this is designed to enhance what your family and friends will perceive! Trickster Andy fills his performances with energy and drive!
Sit back and relax. Watch Andy's close up magic and experience the feel good factor! Merry Christmas!
MAGICIAN HERTFORDSHIRE HIRE PRICES FEES AND COSTS

How much would it cost to hire Hertfordshire magician Andy Field?
The answer to this question is only obtainable after you have filled out Andy's online enquiry form. The reason for this is that every event is bespoke and different. Andy would like to give you the best price possible. He certainly does not want to over charge.
As a general guide though it is worth point out that you are not paying for any travel expenses. You will be hiring Andy as an investment in your event. 
Therefore you are paying for his skill, showmanship, experience, knowledge and reliability.