CLOSE UP & WEDDING MAGICIAN IN POWYS, BRECON & HAY ON WYE


Professional close up magician in Powys available for weddings, parties and events in Derby & Matlock, Chesterfield, Buxton, Glossop and Bakewell.

MAGICIAN POWYS WALES
Five star close up magic for birthday parties and weddings to melt your heart!
Former S.A.M.S. Champion of Close up Magic.
Strong wedding day close up magic to entertain and connect your guests!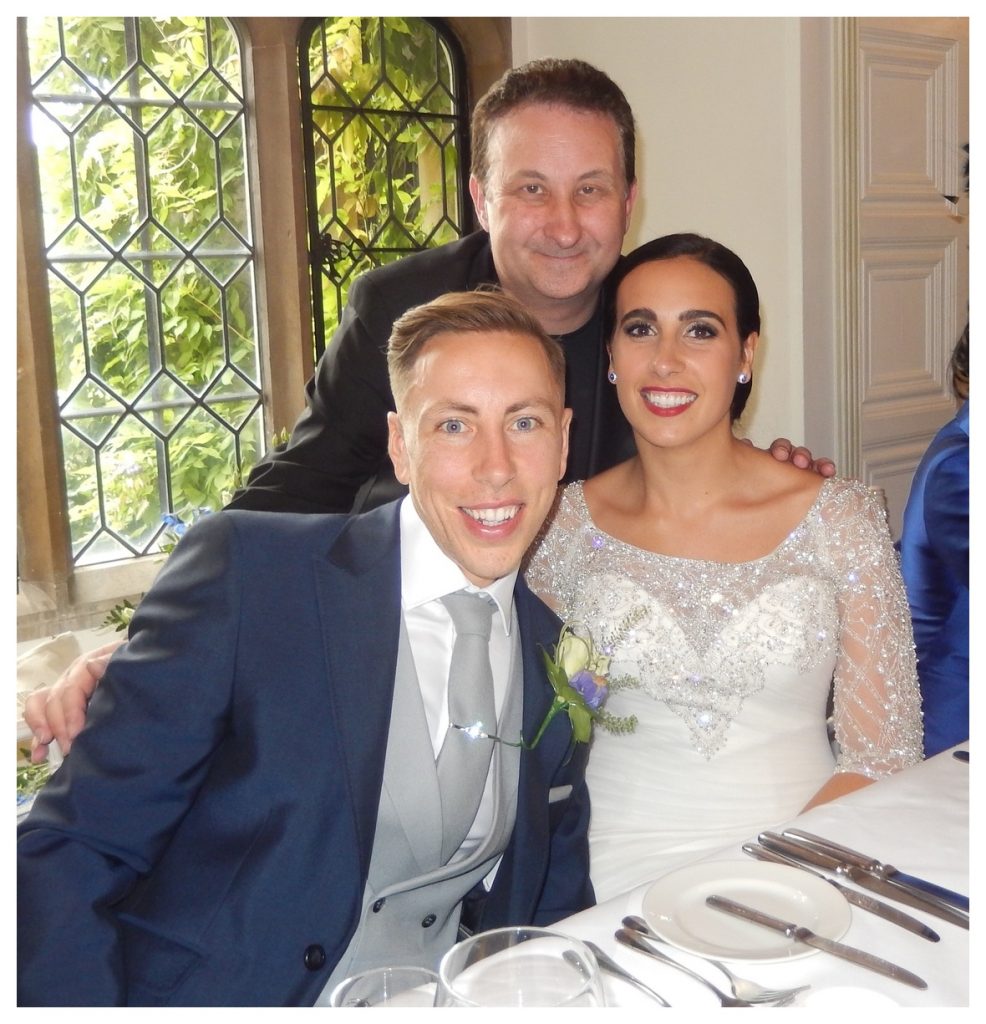 Powys birthday party entertainment made up of startling and entertaining magic.
When it comes to crowd entertainment Andy will be your "Ace in the hole!"
MAGICIAN IN POWYS ANDY FIELD
5,511,668 YOUTUBE CHANNEL VIEWS
When it comes to producing money by magic does Andy have the Midas touch?
 WEDDING MAGICIAN IN POWYS, BRECON & HAY ON WYE

Amazing close up magic for your Powys wedding day – A match made in heaven!
Picture the scene at your Powys wedding. Your family and friends have travelled far and wide to celebrate with you!
They need food, drink and wedding entertainment! Weddings are wonderful events but are subject to lulls with lots of people are stood around waiting.
Give the atmosphere some injection at your Powys wedding and have former S.A.M.S. Close up Magic Champion Andy Field entertain everyone with his beautiful walk about magic!
Get your wedding and party guests involved and excited about your wedding day. Andy will be your ace in the hole and bring everyone together!
MAGICIAN POWYS BIRTHDAY PARTY ENTERTAINER

Close up magic will work a treat at your Powys birthday party celebrations
Is Powys party entertainer Andy experienced? Yes!  Is he popular? Yes! He has millions of YouTube views for his magic! His party close up magic is exceptional and uplifting!
Powys birthday party magician Andy is also known as "The Money Magician!" So called because in one sleight of hand illusion he appears to produce a fist full of £50 pound notes from nowhere!
This close up magician has many years of experience as a wedding, birthday party and corporate entertainer! Andy is a reliable and confident. There is only one word to describe his sleight of hand – How?
MAGICIAN POWYS CLOSE UP MAGIC

Powys magician Andy Field comes highly recommended from a volume of online reviews
Professional sleight of hand Trickster Andy is a gifted performer who derives pleasure from sharing his close up magic. He blossoms on entertaining!
He performs at weddings, parties, VIP events, hotels, bars and restaurants all around the UK and inspires people with his memorable personality and magic performances.
Outstanding close up magic with dramatic, humorous, suspenseful and even romantic presentations! Conjurer Andy always brings his A game when performing!
You thought Powys walk about magicians were a cliché? Not anymore! Read Andy's genuine online reviews of what real and everyday people think of his starting and entertaining magic! Over 100 Five Star Reviews.
 MAGICIAN IN POWYS ACT IN TEN WORDS

Entertaining
Skilled
Engaging
Memorable
Breath-taking
Flexible
Affordable
Reliable
Professional
Gregarious
MAGICIAN IN POWYS WALK AROUND MAGIC

An absolute joyful experience of close up magic and conjuring 
Most people have never hired a Powys professional wedding magic Sorcerer before. They will probably wonder when would be the best time to have Andy perform at their Powys wedding or birthday party.
There are only two parts of your wedding day where magician Andy would not perform. The first is during the actual ceremony itself! The second is when people are actually trying to eat.
After this anything works. For example, in-between the food servings during the wedding breakfast! How about some awesome sleight of hand during the photo call to get pulses racing with excitement!
Room changes and drink receptions are also great times for Andy to entertain your Powys guests and keeping the energy of the day flowing!
MAGICIAN IN POWYS WEDDING MAGIC EXPERIENCE

Wedding magic to make guests remember your day for evermore
Powys illusionist Andy Field has gained many Facebook reviews and millions of YouTube views for providing fast paced and breath-taking magic!
His goal is to leave your event with your guests experiencing close up magic on a level that they never thought possible! Close up magic impossible to forget!
Andy performs his tricks with passion and energy which will leave a lasting impression on your wedding or Powys birthday party guests!
MAGICIAN IN POWYS TABLE TOP MAGIC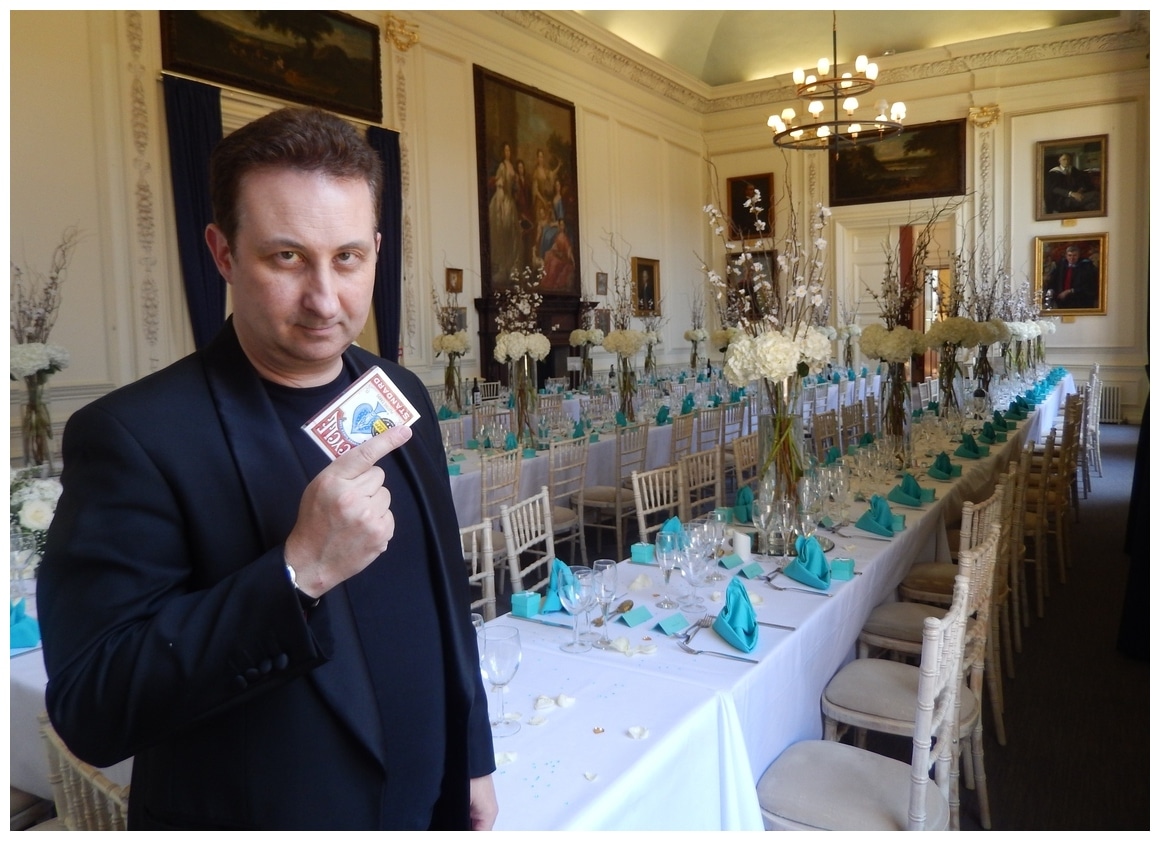 Sit comfortably. Andy's coming over to perform at your table. What a nice chap!
Andy is a magician who performs walking around or visiting people at their tables. This is known as walk-around magic or table top magic.
He does not use a stage or microphone. By and large he performs his close up magic right within touching distance of his audience.
Sometimes the magic even happens in their own hands at the drop a hat which will enhance their experience!
MAGICIAN IN POWYS SLEIGHT OF HAND MAGIC

Clever and devious close up magic right under the noses of your guests!
Andy performs sleight of hand trickery with such items as money, rope, playing cards and dice. Andy also supplies mind reading which feels as though he has actually read your guests thoughts!
Overall will never make your wedding party feel awkward or try to embarrass them. He will only fool them nicely such is the gentleman he is.
Your wedding and birthday party guest will be desperate to try and figure out how he does it but will have to accept defeat!
MAGICIANS IN POWYS CLOSE UP MAGIC VIDEOS 

Powys magician Andy is a master showman. For instance Andy uses his experience to perform the right close up magic trick to the right person at the right time.
For example on his YouTube channel which has over 5.5 million views he performs "street magic" which is aimed at his teenage viewers.
At a wedding or party he may perform dexterous sleight of hand using everyday items for the adults.  Or at a business corporate event he may help to launch a product with a bespoke presentation.
MAGICIAN POWYS BOOKING / HIRE

Andy and Lisa are dedicated to providing an excellent professional magic service for your Powys wedding or birthday party event.
When it comes to supplying you with a quote they will not let the grass grow under their feet! To begin with fill out the contact form right now for a magically quick response.
MAGICIAN IN POWYS TUITION / LESSONS / TEACHER

Private magic lessons, tuition and coaching in Powys
Private one to one magic tuition and lesson with Andy are available to anyone in the UK who is over eighteen years of age.
From sleight of hand card magic to mind reading Andy can teach you magic secrets which will otherwise cost you much time and money if you set out to learn them independently.
MAGICIAN IN POWYS CHARITY & FUNDRAISING EVENTS

Showmanship with powerful close up magic at Powys charity events!
Trickster Andy uses powerful magic and showman ship to entertain. He uses his experience to bond with people. 
He wants people to feel happy as well as amazed when they give his moments of their precious time!
Powys charity magician Andy has twenty years of experience, some of it as a magician! Overall he has packages and deals to suit all your fundraising requirements. For a fee enquiry get in touch right away!
MAGICIAN IN POWYS CHRISTMAS PARTY'S

Complete the entertainment for your Powys Christmas party with Andy's magic!
One great bonus of asking Andy to perform at your Powys Christmas party is the amount of experience his brings with him.
He is a seasoned professional with many years of wisdom tucked up his sleeve. Andy provides and act that is flexible and accommodating. 
You can concentrate on running your Powys Christmas party knowing that you guests will be well and truly entertained!