Professional magician in Bath and North East Somerset who is available for weddings, parties and events. One of the top local entertainers.

Bath Magician Weddings
Illusionist Andy Field will use his magic and experience to create a tremendous atmosphere for your wedding, birthday party or corporate event.
A natural magical entertainer and showman with sleight of hand that your guests will find gloriously enjoyable! 
Powerful magic combined with his engaging and charismatic personality will result in a memorable performance. No more lull moments at your event!
Andy's close up magic has been enjoyed by millions of people all over the world on YouTube.
MAGICIAN BATH WEDDING HIRE

Powerful magic that is beautifully presented to create lasting memories!
When you look back on your Bath wedding day it the precious memories you shared with family and friends that you will both want to remember.
Andy's magic does more than entertain and fill lulls at weddings. His close up magic helps to create those wonderful memories that you will cherish!
MAGICIAN BATH WEDDING MAGIC

Sleight of hand magic that looks effortless! A signed card is pushed inside a solid bottle!
Playful Trickster Andy wants nothing more that the opportunity to wow your Bristol wedding guests with his walk about magic!
Fun and laughter all the way with Andy's experience, knowledge, showmanship and of course sleight of hand skills!
Wedding are all about your loved ones sharing and enjoying your special day. In particular creating those precious memories.
MAGICIAN BATH BIRTHDAY PARTY HIRE

Walk about magic to super charge your Bath wedding or birthday party 
Self praise by the performer themselves does not really count. Andy's sleight of hand magic has been recommended by his birthday and anniversary clients as fantastic, amazing and mind blowing. 
His personality is funny, friendly and professional. Many of his continuous client reviews can be found on his Facebook page.

Bath magician Andy will perform impressive sleight of hand magic
Fees for magicians in North East Somerset to perform their magic at events can vary significantly.  Most people would think that magicians set there fee by an hourly rate and how far they have to travel. 
However, most entertainers charge for a session.  Fees are normally determined by the standard of their sleight of hand skills, experience, entertainment value, popularity and status.
BATH MAGICIAN BIRTHDAY PARTY MAGIC

No matter how many times Andy performs he never gets tired!  Making people happy and dazzling them with his magic gives him deep feeling of satisfaction! Any entertainer will say the same!
Over the years Andy has studied magic to such an extent that he is now able to develop his own original tricks.
He still uses props that many wedding and party magicians use such as playing cards, money, coins and rope but the actual tricks are his own creation.  This means your guests get to see beautiful and original magic.
Many of the mind reading illusions and card tricks that magician Andy performs in Bath are so ingenious that he feels sorry that his audience because they will never get to find out how the tricks are done!
WEDDING MAGICIAN BATH ENTERTAINMENT TIMES 

Weddings by their nature as such social events that there are many fitting times to have Andy wander around and give your family and friends their own private magical performance.
During the photo call while your guests wait for their turn to have their picture taken.
During the cocktail or drinks reception.
Throughout the wedding breakfast when people are not eating.
While any room changes are taking place.
The start of the evening reception.
MAGICIAN BATH TABLE TOP MAGIC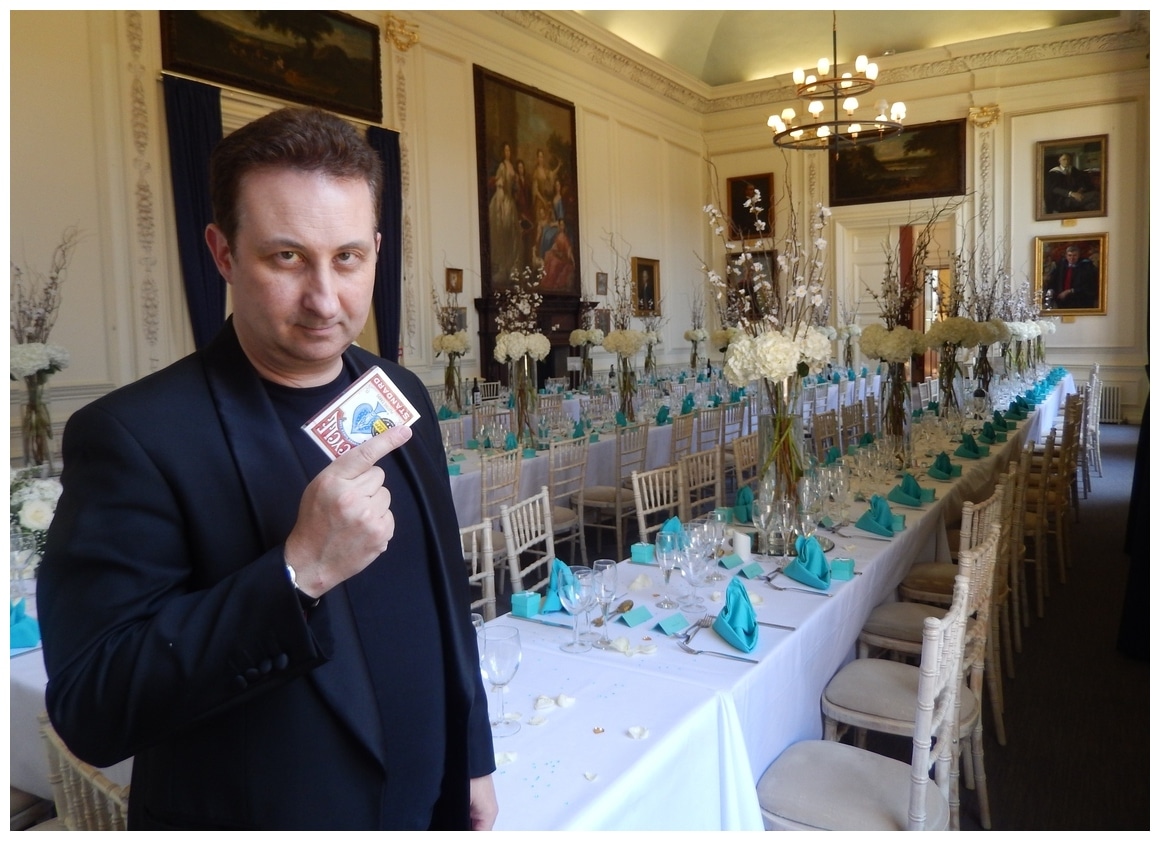 Upbeat and smart Bath table top magic!
Over the years Bath clients and customers have asked Bath table top magician Andy is he can arrange a special surprise.
For example, at a party guests may ask if he can magically produce a gift for a loved one.  Or a diamond ring at an engagement party.
If you have an idea that you wish to discuss with Andy then please do get in touch and let him see if he can make it happen.  Above all the customer is King!
MAGICIAN BATH CLOSE UP MAGIC

Try and look for a magician to perform close up magic at you Bath wedding who has the three "E's!" Experience, Expertise and Entertainment value.
The first item to check would be their reviews.  Try and find genuine online reviews rather than the generic ones found on a website.
Look at their videos and pictures.  Is their magic strong?  Are people really enjoying the performance?  Do you get a good vibe from what you see?
Weddings, birthday parties and corporate events are very important events.  Your choice of entertainer will reflect you. Therefore it is essential you pick a professional artist with a wealth of experience.
The number one memory your guests will take away with them is how your event made them feel.
CONTACT BATH MAGICIAN ANDY

If you wish to enquire regarding having Andy perform at your Bath wedding or birthday party then Lisa or Andy will be delighted to hear from you.
MAGICIAN BATH FOR CORPORATE VIP FUCTIONS

Master showman Andy is perfect as an "Ice breaker" for your business meeting. He can welcome your guests and make everyone feel right at home. As well as offering walk around magic Andy also entertains with mentalism magic.
Get your VIP guests scratching their heads and asking "How is that possible?" This will definitely stimulate conversation and get everyone talking!
MAGICIAN BATH CHARITY EVENTS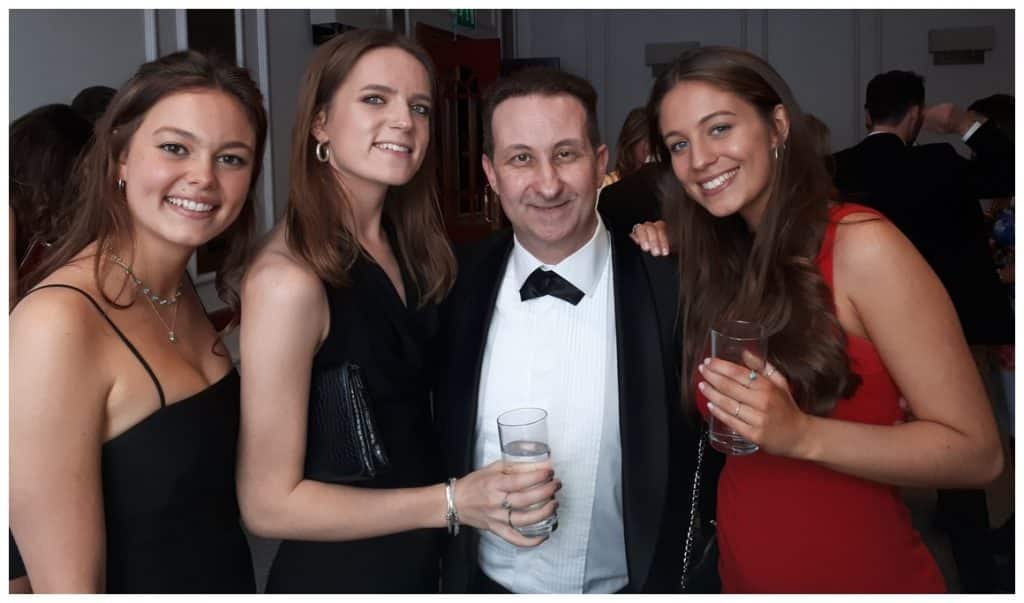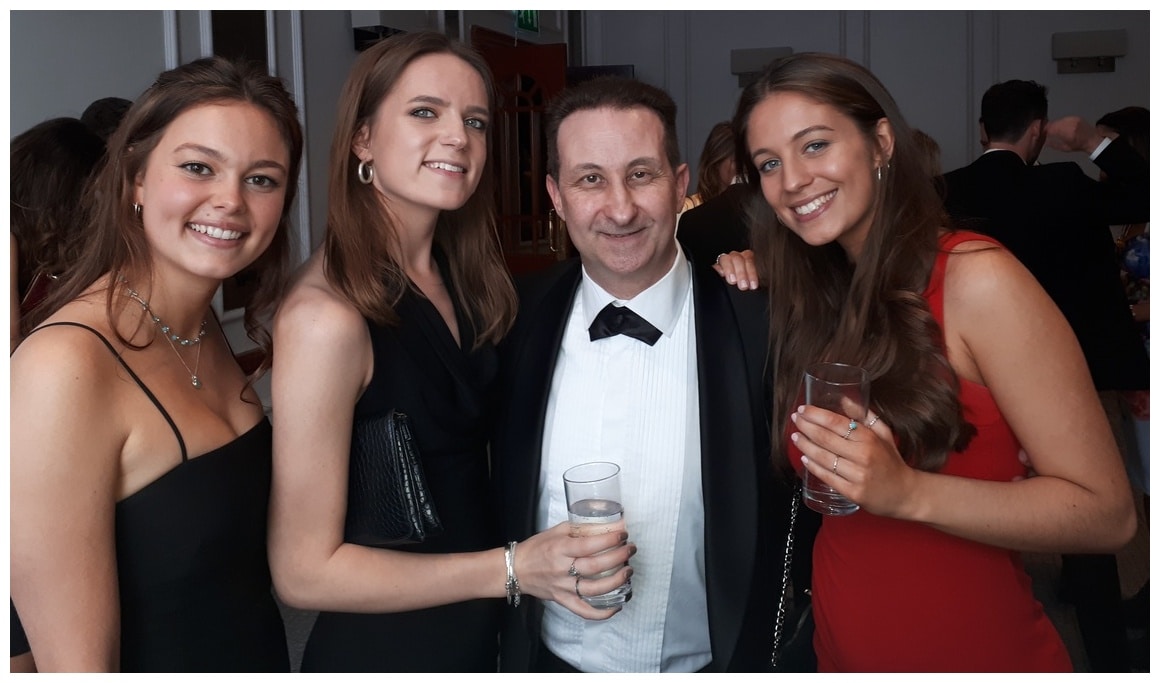 Bath charity magician Andy. Tricky to figure out how he does it!
Andy's close up magic would add a terrific atmosphere to your Bath fund raising cause. Above all events need entertainment of some kind.
Very few professional magicians will offer complimentary services. However Andy is very approachable and enjoys helping and supporting a certain number of events each year at a discounted rate.
MAGICIAN BATH CHRISTMAS PARTY MAGICIAN

Andy's close up table top magic at you Bath Christmas party!
Andy's walk about magic and table top magic is fit for purpose to blow audiences away! For example he designs magic illusions specifically with a Christmas feel to them.
All of a sudden borrowed rings can vanish and appear inside crackers on the tables. Or inside an nest of boxes. Therefore a perfect magical Christmas present!
Overall each illusion entertaining, amazing and totally impossible! 
MAGICIAN BATH MAGICIAN FOR HIRE PRICES AND FEES

Bath magician hire prices fees and cost
Bath magician Andy Field does not charge by the hour. In other words his is cost is for a session.
When you contact him he will suggest how long a performance is best suited for your event based on the details you provide.
Overall his magic skills, showmanship, experience, popularity and reliability are what his fee is based upon. You are not paying an hour rate. Neither are you paying for his travel expenses. 
SLEIGHT OF HAND MAGICIAN BATH

Close up magic with Bath wedding magician Andy Field
Andy's close-up magic creates illusions just a few feet away from your guests and their watchful eyes!
Overall Andy uses small objects, which usually fit into his pockets. Hence the tuxedo! These objects can be rings, coins, banknotes, pencils, cards and mobile phones.  Even bottles and wine glasses are available for magic.
Andy's sleight of hand magic is the act that fits most easily to all types of events because he has very few constraints. In fact is very easy for him to adapt to your requirements.  In other words a strong impact with a positive memory of your day is assured!
MAGICIAN BATH QUESTIONS AND ANSWERS

How much is a magician in Bath?
Magician Andy Field offers competitive rates for supplying powerful and entertaining magic.
When is the best time for the magician at our wedding?
Overall Andy suggests three golden lull moments. The photo shoot. The wedding breakfast. The evening reception. In fact these are all great times for Andy's powerful close up magic! Let him amaze!
Do you perform at Bath birthday parties for adults?
Absolutely! Get in touch for a fast no obligation quote today! Andy is waiting to help you.
MAGICIAN BATH MAGIC SHOWS

Magic shows have other names. They are also called parlour or family shows. Either way they are perfect for small groups looking to enjoy magic.
Andy's set generally runs between thirty to fifty minutes. Performances are flexible. Overall they can take place at homes or private venues.
Get everyone seated and relaxed then leave the rest to Andy! Startling close up magic with playing cards and cash. Plus mind reading and other illusions.
Best of all performances can take place at a safe two meter distance. Socially distant and friendly!