MAGICIAN IN MILTON KEYNES FOR WEDDINGS, PARTIES & OTHER EVENTS


Professional magician in Milton Keynes Andy Field is available for weddings, parties and other events in the city

MAGICIAN MILTON KEYNES FOR HIRE
Andy Field Magic. Instantly likeable professional wedding and birthday party entertainer. 
Charming and unscrupulous close up magical entertainment! 
Extraordinary corrupt walk about magic! Tricks to unite, entertain and never be forgotten!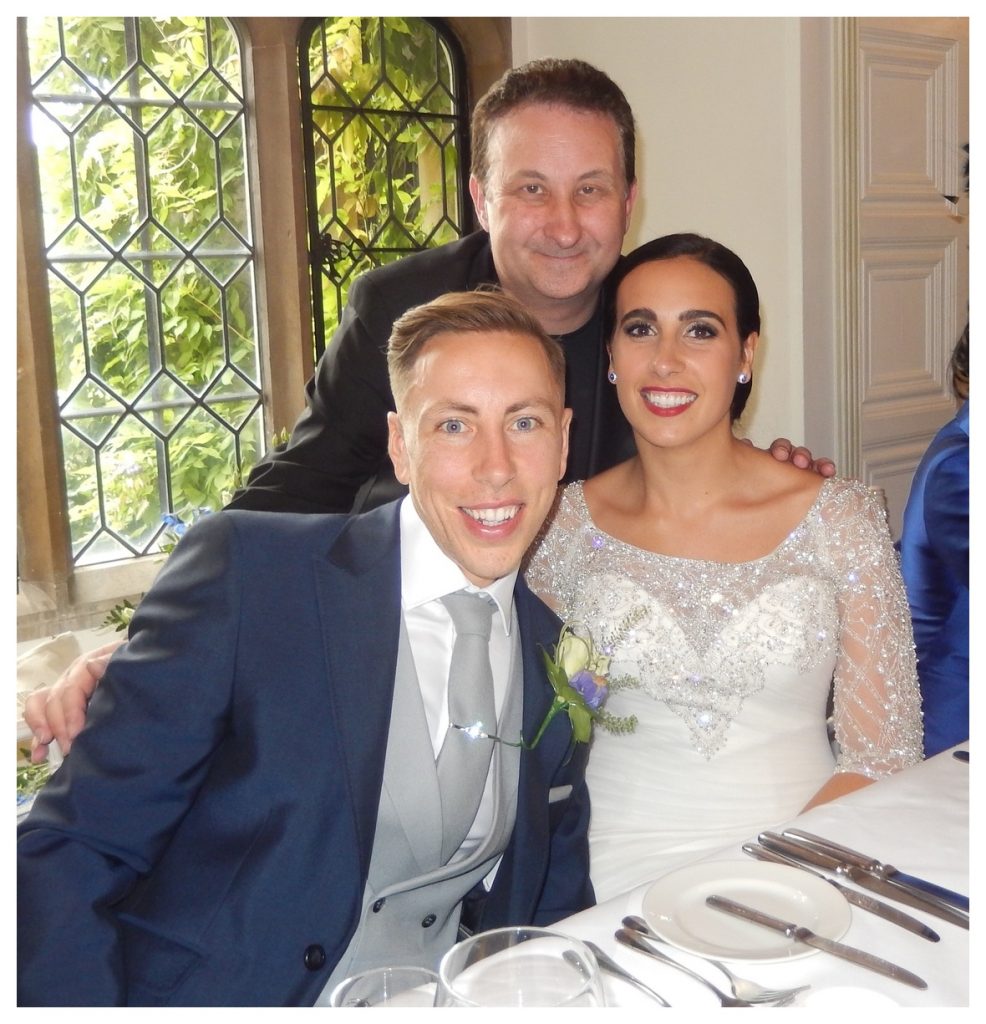 This double-dealing gentleman would be proud to entertain at your wedding or birthday party event.
Former Magic Champion of S.A.M.S. has a bag of delightfully dishonest magic waiting for you!
MILTON KEYNES MAGICIAN
NEARLY 6 MILLION YOUTUBE VIEWS
Milton Keynes wedding magic with even polo mints!
MAGICIAN MILTON KEYNES WEDDING ENTERTAINMENT

Milton Keynes magician Andy for winning wedding entertainment 
Everyone has heard of a close up magic magician entertaining during a wedding. Many people have seen a walk around magician in Milton Keynes too. Magic is a great way to entertain guests. Andy is a magician for hire supporting Buckinghamshire and the UK.
Andy is a Trickster who will walk around and entertain your guests! Here are a few cool tips for when booking a wedding magician in Milton Keynes.
First look carefully at any reviews. Make sure they are genuine. Consider their showmanship quality, skill level, experience, reliability and previous customer satisfaction. Wedding magicians generally base their fees on these attributes.
Andy's fee is industry competitive. If invited to your wedding in Milton Keynes to perform his magic he will make your guests laugh. Andy will act as an icebreaker. He will unify people and fill any lull moments that may occur during your wedding day!
MAGICIAN MILTON KEYNES BIRTHDAY PARTY ENTERTAINMENT

Milton Keynes Close up magician Andy Field. Unforgettable magic to amaze, unite and entertain!
Magician Andy Field has won the S.A.M.S. Championship of Close-up Magic on two individual occasions. Your "Ace in the Hole" party entertainer!
He has a lot of experience to offer your Milton Keynes birthday party celebrations. Knowledge from a performance and consultancy point of view.
Incidentally his expertise as a Trickster helped the BBC in the production of their hit television drama "Hustle".
You will find Andy's sleight of hand to be very strong. He interweaves captivating presentations in with his performances. Your friends will love Andy and his magic!
Andy is a people person who is full of energy and passion when it comes to performing walk about magic at your party. He can break the ice for any new kids on the block!
He will deliver a five star performance. Andy will give the atmosphere a super boost and your guests will return home delighted!
MAGICIAN MILTON KEYNES WEDDING ENTERTAINER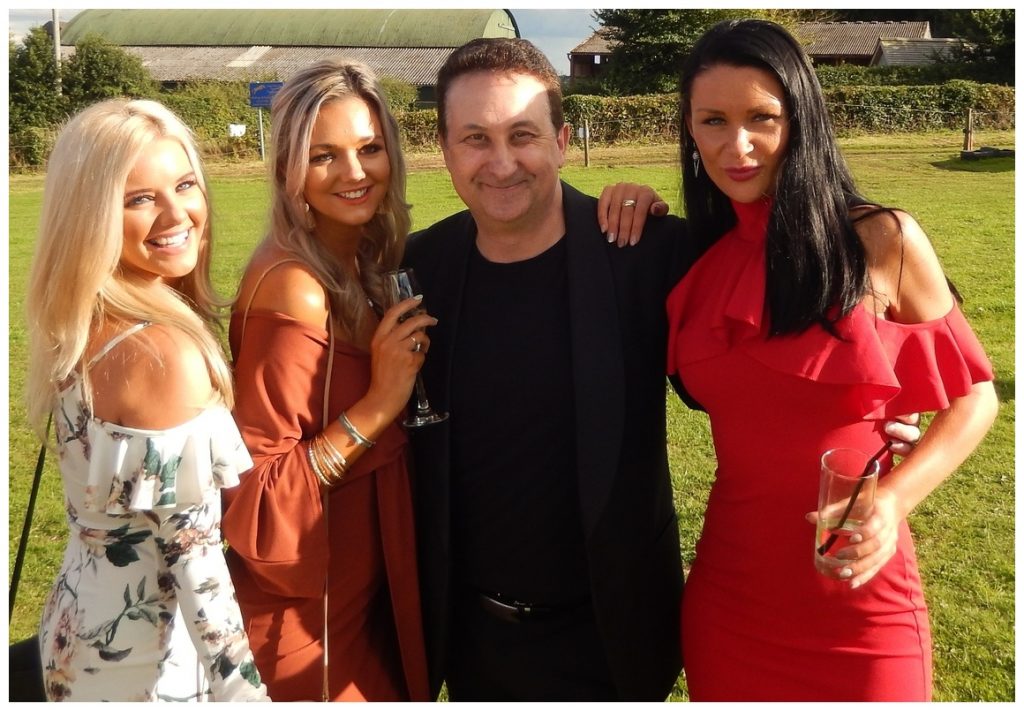 Amaze. Impress. Entertain. Milton Keynes wedding entertainer Andy Field.
Magician Andy's goals are to highly impress your Milton Keyes wedding or birthday party guests.
He wants nothing more than to create an exited buzz around your venue with his sleight of hand magic.Expect your guests to rush over to you and ask where you found Andy!
Please do not forget to tell them. Andy will want them to book him too! Table top magician Andy supplies wedding and party entertainment all over the UK.
MAGICIAN MILTON KEYNES MIND READING

Mind reading at weddings and birthday parties will leave a strong impression on your guests for sure!
Along with his nimble sleight of hand magic skills, Milton Keynes illusionist Andy also supplies mind reading with his sixth sense!
He creates the impression of being able to extract thoughts and ideas out of the minds of your guests! Let Andy make a strong and emotional connection with your family and friends!
This part of Andy's act is extremely popular. It is full of appeal and suspense!
Once your guests realise that Andy does not reveal anything private or personal, and that everything is done in good spirit, they will soon be queuing up to have him read their thoughts too!
MAGICIAN MILTON KEYNES CLOSE UP / TABLE TOP MAGIC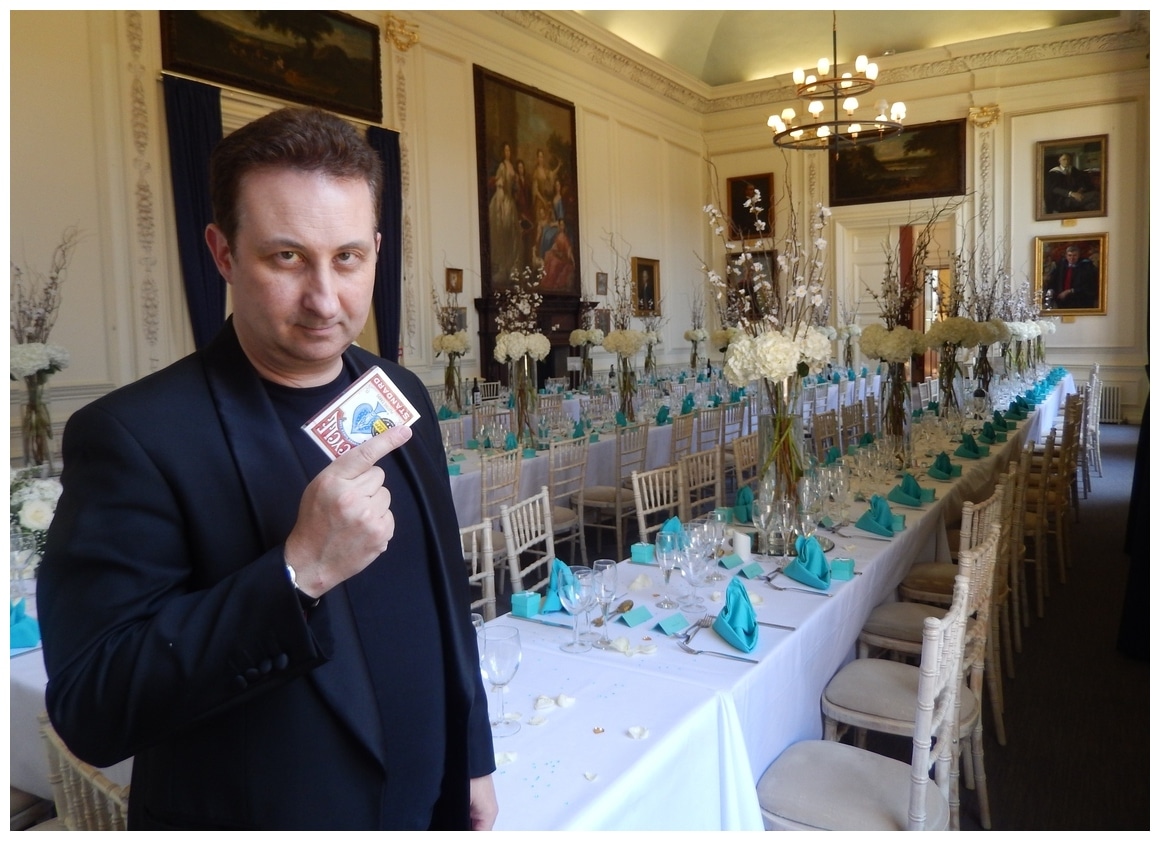 Sleight of hand card trick magic at your table side. No problem at all! – Get your wallets ready!
Andy is a former S.A.M.S. Magic Champion. He won this award for his proficient close up sleight of hand skills. Let him entertain with his beautifully impressive sleight of hand.
This makes his magic exemplary for any event you may have in mind. From weddings, birthdays, corporate, anniversary, 21st, golf club dinners, award nights, Christmas, New Year's Eve or charity events.
If you have people sat down at a table Andy can join them and entertain at the drop of a hat! What a helpful and flexible chap here is!
The tools of Andy's trade are playing cards for sleight of hand, money, finger rings, keys, dice, borrowed items plus thousands of hours of practice! Practice makes perfect!
MAGICIAN MILTON KEYNES CORPORATE MAGIC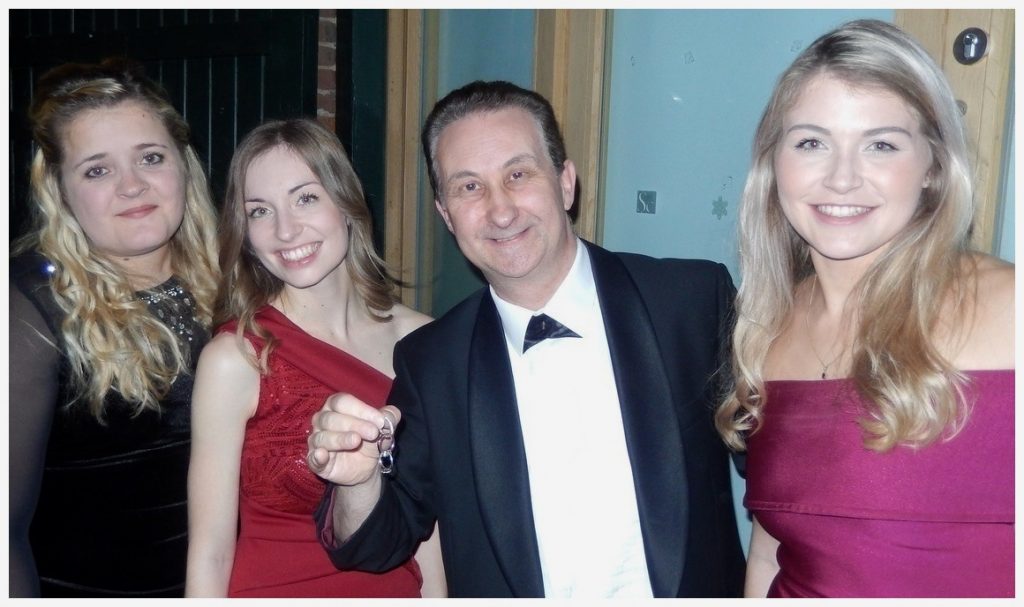 Milton Keynes sleight of hand illusionist Andy Field performing the rarely seen legendary Linking Finger Rings Illusion.
Strong magic is even more effective if the performer is a natural showman. To present a magic trick well is not easy. It is a social skill acquired with experience over time.
Andy will use a range of emotions to present his magic. Mainly comedy but he will also throw in drama, mystery and suspense. Plus a little romance for the ladies!
You can thoroughly trust in Andy's walk around magic at you Milton Keynes corporate night. Trust in Andy to design a fantastic atmosphere and a strong entertaining impact.
MAGICIAN MILTON KEYNES  FACEBOOK REVIEWS AND RECOMMENDATIONS

Looking for trusted recommendations for an important event is wise. They are the next best source after word of mouth.
You will want to ensure your close up magician is a professional. On top of this reliable, experienced and can cut the mustard!
Andy's reviews are from all over the UK from people who have seen his magic act. What is more they are authentic social media reviews.
MAGICIAN MILTON KEYNES BOOKING & HIRE

Andy has a very simple booking procedure. Nowhere near as complicated as booking an online honeymoon holiday!
Our form designed for you to get in touch and give us all the details we need. You will receive prompt response. Quick and simple.
Then the ball will be in your court should you wish to proceed. All the details are in writing when presented to you. 
MILTON KEYNES MAGICIAN WEDDING OR PARTY PERFORMANCE LENGTH

Andy knows that you will want to plan your Milton Keynes wedding day to your own specifications.
For this reason he can develop a wedding entertainment package to suit your wants and needs.
MAGIC WEDDING PERFORMANCE FOR MILTON KEYNES BRIDE AND GROOM

Bride and grooms receive a personal and bespoke performance to personalise their Milton Keynes Wedding day from Andy
No doubt the two of you will be very busy on your wedding day. Greeting friends having pictures taken and so forth.
However if you can spare Andy a few minutes he will personalise your wedding with your own private performance. Amazing magic before your very eyes!
Why not! After all it is a magic day! It would be sad if you were the only ones who did not experience Andy's magic. Even more so when you the ones who paid his fee!
MAGICIAN MILTON KEYNES HIRE BENEFITS

There are many benefits his close up magic can bring to your event. The first one obviously being he can perform fantastic walk around magic and create an impact
Furthermore he can give people a private performance. He will act as an icebreaker. Andy's tricks will unite people and help encourage conversations and laughter.
He can entertain during interval and lulls such as during the wedding photo call or evening reception. A great time is at the start of a birthday party when the atmosphere is low on energy.
Andy' close up birthday party magic also crosses any language barrier. People need not speak English to understand his act and still have a field day!
MAGICIAN MILTON KEYNES WEDDING ENTERTAINER TIME SLOTS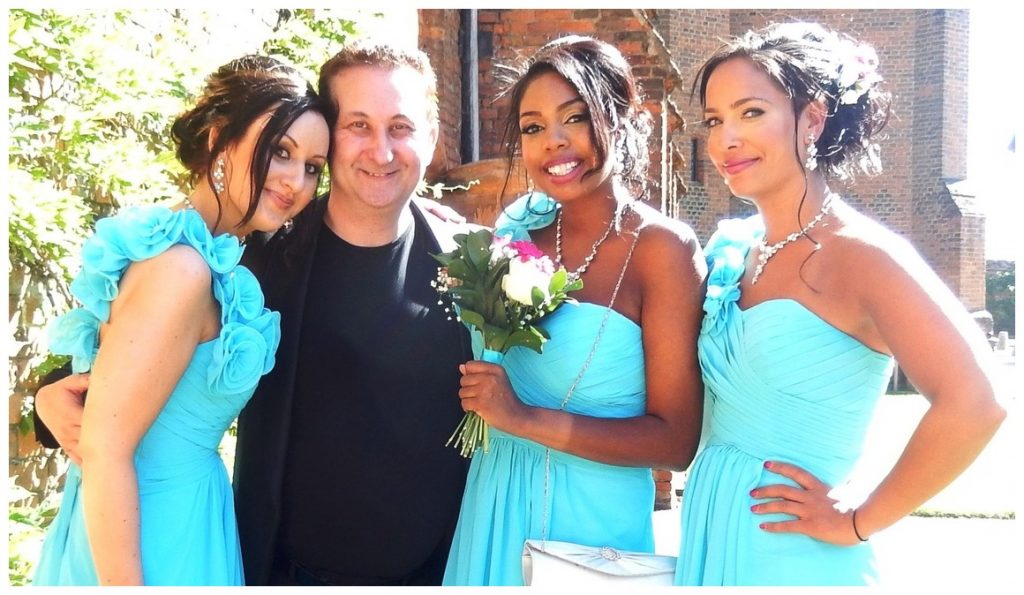 Strong magic to make people happy at any point of your wedding or birthday party
Why have stagnant moments during your wedding day or party when you can have exciting moments instead?
Let Andy and his magic be the ace up your sleeve as a surprise to entertain your Milton Keynes wedding guests! Here are some performance time ideas.  
1.  Wedding Breakfast. Experience a warm hearted feeling as your wedding guests cheer and clap Andy's magic. There is no better entertainment in between wedding breakfast food service.
2.  Photo Shoot. You will both have peace of mind that while you are whisked away to have your wedding pictures taken your guest will be kept busy with Andy's close up magic. That is until it is their turn for their pictures.
3.  The start of the evening wedding reception is the biggest lull. Let Andy get the evening of to a powerful ice breaking start.
4.  Drinks receptions and room changes right after the wedding breakfast are other excellent examples of when magician Andy can conjure. His magic is perfect for people of all ages and will drum up excitement.
MAGICIAN MILTON KEYNES FOR CHARITY EVENTS & FUND RAISING

Andy can help charm some extra money from your guests to put towards your cause
If your charity night function requires some close up magic then Andy would love to assist you. Andy has an instantly likeable personality and would mix well with any civic guests such as Mayors or M.P. without fear of any awkwardness.
His magic can help you to fund raise and entertain at each of your guests tables during your event. With illusionist Andy supporting your night you will be the one holding all the aces!
Please note that he does not provide fee entertainment. However he may be able to offer you special rates depending on the details to your event and charity.
MAGICIAN MILTON KEYNES MAGIC TEACHER / TUTOR / LESSONS

Want to learn some of my most original and secret illusions like this one? Get in touch.
If you are over eighteen years of age and are considering learning close up magic then Milton Keynes magician Andy would like to hear from you.
Various rates and packages are available for personal and bespoke tuition. Visit his private tuition page for further help, advice and details.